Using our AI Bot Builder, you can do anything you can think of!
You can build your own AI Bot, customize the templates, and lead a conversation of unparalleled quality. Let's see the builder in detail!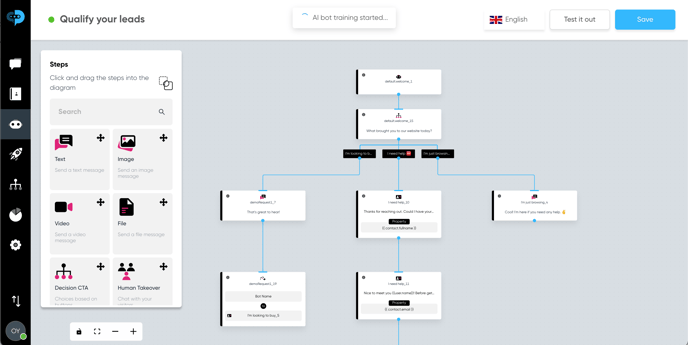 Steps tab
Steps tab contains all the steps you need to build your AI Bot.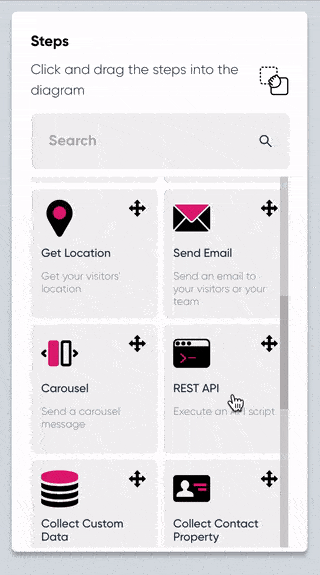 Only thing to do is drag the step and drop it to the Panel. Of course, you need to make some changes to save it. Then, you need to do this multiple times and connect the steps together. Tada! Now you know how to use the Steps tab.
For a quicker way to select a step, just start typing the name and it will filter the steps: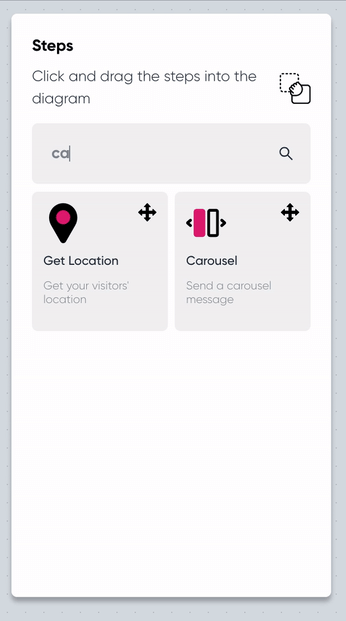 Check out here if you need to know more about Steps.
Zoom In/Out
You can find it right below the Steps tab.

Lock
It helps you to lock the diagram so that you cannot change the position of the steps. It's also right below the Steps tab.

Header Bar
There is a status icon, a bot name textbox, 3 CTA buttons and the language box in the header bar:
Status Icon - It refers to the status of the bot. If it's Green, it means that the bot is published. If it's Grey, the bot is drafted.
Bot Name Textbox - It allows you to name the bot.
Language Box – It refers to the language of the bot.
Test It Out – It helps you to test your diagram in the test widget. Please note that you need to save your bot before testing it.
Publish – It publishes your bot. Also note that you can't publish without saving the bot.
Save – It saves your bot. Once saved, the bot will be saved as Draft.