To get started with Botgate AI's Google Sheets integration, read this article.
Google Sheets integration allows your bot to send and receive data from a spreadsheet, keeping it organized and safe. Let's check how you can integrate your Google Sheets account:
To start setting up your Google Sheet integration, click on the Integrations on the left navigation bar and click on Google Sheets.

Log into your Google account by clicking on the button "Connect with Google" and you will be redirected to Google.


The app will ask for your email address and password and permission to access your data. The account to integrate with Botgate AI should be selected.


Tada! It's ready! You can disconnect your account from this list.


For the Google Sheet integration to work properly, it must find the headers (first row/line) of your Spreadsheet.

In order to integrate Botgate AI with a Spreadsheet, it must be in its final form. If you edit the structure of the Spreadsheet, the Google Sheets integration will need to be re-configured.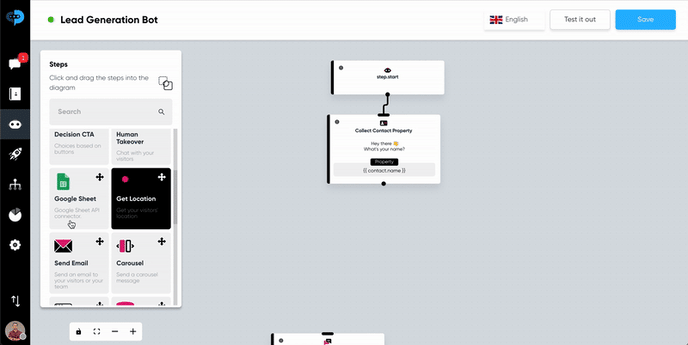 Google Sheets step in the flow must be triggered to activate the integration. To ensure visitors go through it and trigger the integration, it should be placed after you have collected the information you need (rather than at the end of the process).

You can take 4 actions in a Spreadsheet: Get, Insert, Update & Delete. The following articles explains how each of the four actions work and how to configure them: