Getting the right person involved at the right time is crucial to your customers and leads. With Conversation Routing, you can make sure that they are!
Using Conversation Routing, you determine who will be routed (added as a participant) in a particular conversation based on a set of criteria. For instance, it makes sense to route conversations to your sales team when someone starts a conversation from your pricing page.
All Apps include a Default Routing. (You can change it anytime you want!)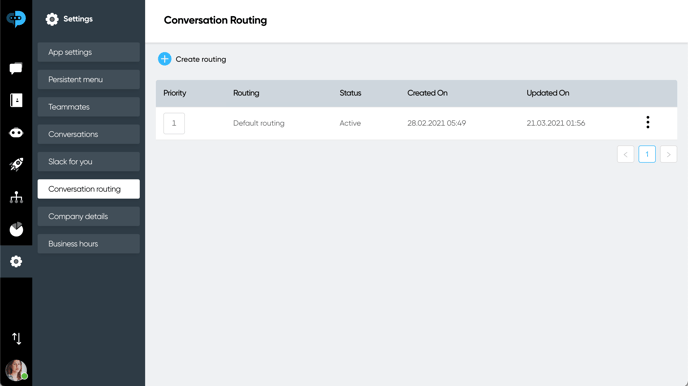 Normally, you should have at least one or more teammates who can handle many conversations so that no conversation will be missed. If a visitor fails to meet all of the other conditional rules, they will be directed to the Default routing.
How to set?
Let's check Default routing:
Just click on Default routing.
You will see two main section on the left menu: Routing and Targeting




On Routing section, you can set certain settings: Name, Channels (Web, WhatsApp, Facebook, Slack, Instagram*), Routing Way, and Teammates.


*Instagram as a channel will be added soon!

You will be choosing Routing Way by answering the question: How would you like to route conversations?

There are 3 ways to route your conversations:
1. To a single teammate: It will route the conversations to a single teammate that you will defined.
2. Round robin within a group: You can choose a group of teammates and route the conversations via a round robin method.
3. Do not Route this conversation

After that, you need to choose the lucky ones to chat with your customers: Teammates.

For ABM purposes, you can make sure that the customers who have visited before will be taken care of by the same Teammates.

Finally, you need to set the status this routing rule: On & Off.
On Targeting section, you can define your audience for this routing rule. If you don't want to select any conditions, you can continue with the All Visitors option.



You can group the visitors to define your best audience according to their behavior, the website they are coming from, or their device etc. You can also add different conditions based on your scenario in your mind. For instance, if you add Referral URL as a condition, you can target the visitors coming from your Ads.

That's it! Based on your learnings here, you can craft different routing rules.
If you want to create a routing rule, click Create routing button and follow the same steps.