Playbooks let you greet your visitors in a more personalized way.
You can interact with more customers and encourage visitors to start chatting with the Playbook feature. It allows you to show your customers a pop-out message right above the Widget even if they didn't interact with the AI Bot.
You must have seen the personalized messages that pop up when you enter botgate.ai. It's called Playbook.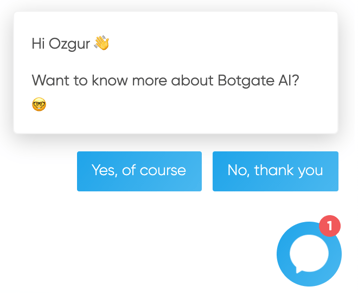 Playbooks sometimes have a similar essence as pushed notifications.
Playbooks can be helpful in a variety of scenarios. You can proactively get in touch with your visitors and generate more leads.
For example, if the user has previously asked AI Bot to monitor the price of a product, AI Bot can alert the user if the price of the product has dropped by 20%.




If you have a visitor who visits your website multiple times, AI Bot can give a more personalized answer considering the previous visits. You can approach more sincerely like by calling their name to your return visitors.
Once the visitors have this feeling to be well taken care of, they tend to buy. And as a result, you will see the increase on the online conversion rates.