Teammates are basically your team who use Botgate AI Dashboard to make AI Bot designs and greet your customers via Team Inbox.
You can assign different roles to your teammates; decide who should get permission to manage your subscription and who should focus on answering your customers or monitoring reports. You might not want every teammate to have access to billing info, widget settings, or similar stuff. There are two roles for teammates: Account Owner and Chat User.
You can be a Chat User, and not be an Account Owner, but you can't be an Account Owner without also being a Chat User.
Account Owners
Account Owners can access everything in Botgate AI, including all AI Bot designs, Widget, Team, and Payment settings. Here is how it looks the navigation bar on their Botgate AI Dashboard: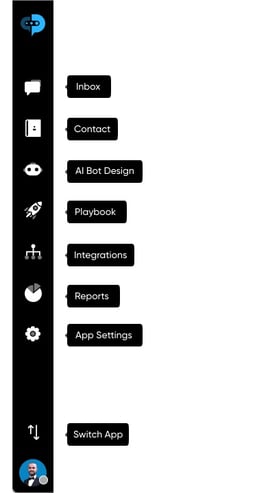 Chat Users
Chat Users can access certain conversations and contacts. Here is how it looks the navigation bar on their Botgate AI Dashboard:
You can see how many teammates you can add in the top right hand of the list. See below: