Besides App Name and Timezone, here you can set the value of two core elements of your AI Bot: AI Bot Confidence and Bot Status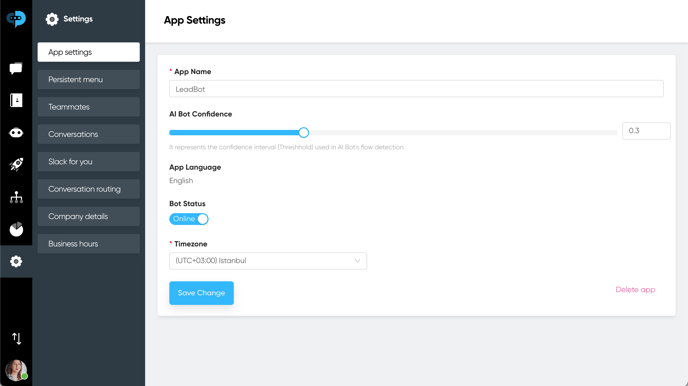 AI Bot Confidence allows you to decide how precisely your AI Bot interprets what your customers say and represents the confidence interval (threshold) used in AI Bot's flow detection. By setting the AI Bot confidence correctly, you can provide an effortless and smooth chatting experience, right for your business.
The default AI Bot confidence is set to 0.3. You can decide which value fits your AI Bot best. AI Bot confidence must be in the range of 0 - 1, where 0 means 0%, 0.5 = 50% and 1 = 100%.

With Bot Status you can change AI Bot's status to online/offline. While offline, your flows won't work and your teammates can keep the conversations up.
Also from here, you can change your App Name and Timezone, view your App Language, and delete your app.