Conversational Marketing, Conversational AI, Conversational Sales, Lead Generation
Best B2B Marketing Case Studies
B2B business models are more different compared to other business models in terms of marketing professionals reaching customers and introducing their content. Marketing professionals at this point make use of case studies to use correct sales methods. So what are the best B2B case studies carried out in B2B marketing?
Why Do We Need Case Studies?
Case studies are examples of marketing study that contains the real-time experience of a product or a marketing or sales initiative of a company. In addition to showing the value of the product, some case studies help you take out some marketing and sales lessons through real-time experiences. Case studies help you analyze and make the right decisions in order to understand how your company can benefit from certain tools or platforms, which platforms would be the best suit for your goals, and see what you can achieve with them.
What are the Best B2B Marketing Case Studies?
B2B is described as the e-commerce business model that happens between two companies. Businesses both improve themselves and the business they provide service to through the quality service they provide to each other. Here we can list the best B2B marketing case studies as follows:
1) Fisher Tank
A steel tank manufacturer Fisher Tank has been making its sales through cold calling and references of their existing customers for over 60 years. The company, wishing to change its marketing strategy, leaned toward the digital marketing field and was targeted at catching potential customers. The company initiated website organization and active use of blog and social media applications and collected its fruits in the form of a 119% increase in website traffic, 4800% increase in social media traffic, 500% increase in possible sales conversion, 3900% increase in quotation requests and 3.4 million dollars of increase in its qualified sales leads.
2) Maersk
Danish maritime company Maersk, first started to use social media in 2011 hoping to increase brand awareness, gather insight about the market, increase employee satisfaction, and build a closer connection with customers. In order to fulfill this goal, it applied different strategies on each social media platform. For instance; in order to increase the volume of applicants applying to job openings on LinkedIn it prepared encouraging texts and published blogs explaining their work culture. On Instagram on the other hand, they encouraged their followers to share photos of their ships using the hashtag #Maersk. Currently, Maersk has more than 1.5 million followers on Facebook (approximately 15% of which are customers) and 12.000 followers on Twitter. In addition, they also have active accounts on Instagram, Tumblr, YouTube, and Google+.
3) Tyroit
Europe's biggest grinding wheel, cutting, sawing and boring tool manufacturer Tyroit generates 416 million dollars of revenue each year by producing more than 70.000 unique products in 19 factories located in 60 countries. Tyroit chose to use a CRM system in order to cut down the number of contact points and process fees and to integrate its products and solutions. Thus, they were able to achieve a 25% increase in their profit and obtain 183+ investment income in 2 years.
4) HubSpot
An American company that develops and markets inbound marketing, sales, and customer services software products HubSpot started using social media as a way to solve customer problems. HubSpot is also known for being the first company to publish guiding books explaining how to succeed in target markets. They became famous for being a training resource in the market they serve for sharing the best advice, in the most rapid way. They were able to achieve 52 million dollars in 4 years by providing information free of charge and giving recommendations.
5) Lyft
Offering tools for renting, commuting and food delivery, Lyft became one of the most prominent brands all over the US by using chatbots. It aims at reaching its customers instantly on any platform through customer services chatbots offered on various channels including Facebook Messenger, Slack, Amazon echo X, etc. In addition, it also provides detailed information about products through chatbots and allows you to rent a car through its own platform.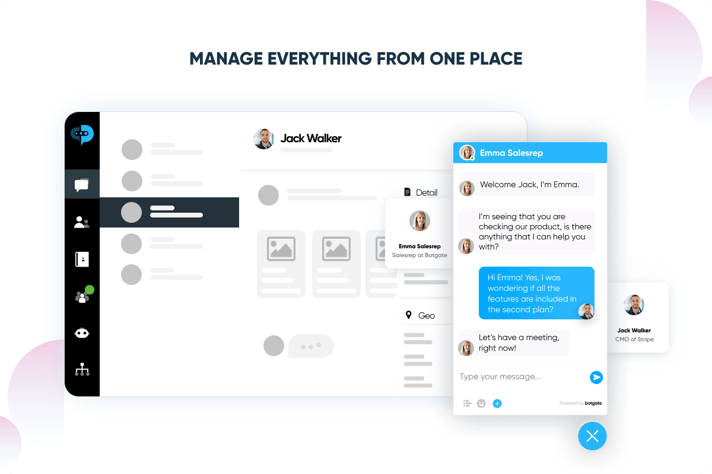 The Address for Conversational Marketing: Botgate AI
All of the examples given in the above case studies used digital platforms in their marketing process and succeeded. However, the one thing that allows companies to reach customers on these digital platforms quickly is chatbots. If you also want to make use of the power of social media and at the same time reach your potential customers, then we would like to introduce you to Botgate. Botgate is a conversational marketing platform that offers chatbot solutions supported with conversational marketing, conversational sales, and artificial intelligence. With its specially developed private messaging platform you can communicate with all your potential customers on all your social media accounts. For more information get in touch with us here!
Subscribe to our newsletter
get the latest news.