Chatbot, Conversational Marketing, AI Bot, Conversational AI, Conversational Sales, Lead Generation
Top 5 CM Alternatives
Today, we will examine Cm.com in detail and share its alternatives with you. How do you decide to choose your service provider? By looking at their price ranges, product advantages, customer service ratings, integration flexibility, or user-friendly interface? In this article, you can learn about these main topics and more. You will have a chance to analyze different companies which have the "same" operational functions. Additionally, we have also collected some positive and negative reviews from different software rating websites (G2 and Capterra.com). Let's start reviewing Cm.com.
Customers and businesses are looking for customer-centric ways of communicating through mobile channels. Conversational Commerce allows businesses to be exactly where their customers are. A conversational commerce solution allows businesses to reach out to their customers and complete the purchase journey within their favorite messaging channel by integrating all the popular messaging channels, data tools, and payment solutions. You can have a rich and customer-centric mobile conversation, without technical obstacles.
CM.com combines multiple communication channels such as SMS, RCS, WhatsApp Business, and Apple Business Chat with a user-friendly platform. CM.com has integrated payment functionality and can be used via API and Web App. The CM.com platform is the first of its kind worldwide.
CM Pricing
CM.com has not provided pricing information for this product or service.
CM Summary
Pros: "The application has been easy to setup, use and implement for our whole team. The CM team is very responsive to our feature requests and we have seen quick resolutions for all of our asks and additional support."
Cons: "Their sending services are a bit pricey, but worth it for the 'white glove treatment' we've received."
Why do you need CM Alternative?
Some customers have faced some e-signature procedures. Possible e-signature modification and revision steps could cause a bottleneck in operational processes. The Sms campaign option could be also improved, in some cases, users have to upload some promotional pictures multiple times. Data uploading automation could be useful for SMS campaign option users.
CM Alternatives
Botgate AI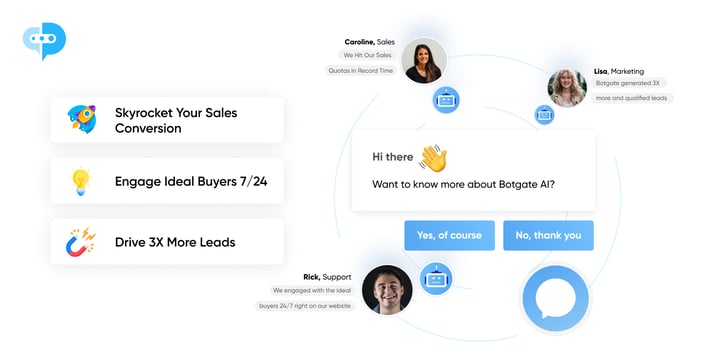 Botgate AI is a conversational marketing and sales platform that helps businesses connect with existing or potential customers by using hybrid bots (humans and artificial intelligence) to enhance customer relations. Through natural conversation genres and instant customer feedback, businesses have the opportunity to convert visitors into new customers. No-code bot builder user interface gives everyone a chance to create their own organizational flows.
As a product provider, Botgate AI's hybrid conversation model offers a superior experience compared to existing chatbot solutions.
Businesses have the chance to connect automated AI conversation processes with live chats via Botgate AI no-code bot builder's drag and drop interface. A continuous live-chat transition clearly improves the customer experience. Customer representatives can step and engage in uninterrupted conversation after certain conversation steps.
It's clear that users can instantly build their complex business workflows by using the AI bot builder.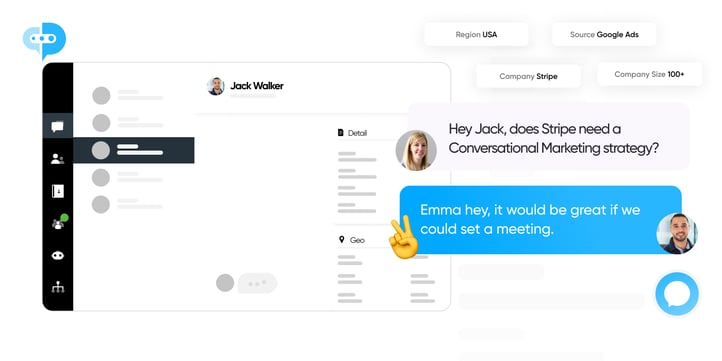 You can personalize the messages based on visitor attributes and purposes with Botgate AI Playbook. Targeted special messages will definitely give businesses an edge over their competitors. This feature allows users to show different messages and offer special discounts for their returned visitors or customers.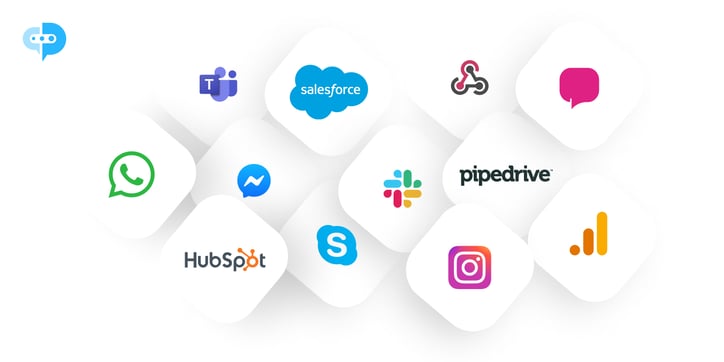 You can integrate Botgate AI into many platforms including Instagram, Slack, Facebook Messenger, Pipeline etc. In summary, Botgate AI is a customer-centric business where the team focuses on adding value and intelligence to better serve its customers. Their fast response times and friendly approach to customer support set them apart from their competitors.
Botgate AI Summary
Pros:" We did benchmark comparisons for online leads conversion rates and then looked at our lead-to-convert metric here at Kolektif House. That's where we saw real success. The 30% increase in monthly online leads paved the way to a happier business, both for our clients and our in-house teams."
Cons: "We can change the color and icons of chatbot but we can not customize the reports dashboard. Night mode or black background options could be useful "
Botgate AI Pricing
Botgate AI provides five different plans:
Free: This free plan comes with a single bot and basic live chat functionality.
Starter: This plan will cost you €29 per month. Here, you will get 1 Team Inbox, 500 Active Contacts, 1 Integration, and 2 Workspaces.
Growth: Get this plan at €79 per month, where you will get 2 Team Inbox, 1500 Active Contacts, 2 Integration, and Unlimited Workspaces.
Scale: This plan will charge you €199 per month. In this plan, you can enjoy 3 Team Inbox, 5000 Active Contacts, All Integration, and Unlimited Workspaces.
Enterprise: This is a custom plan with custom features, feel free to contact!
Twilio
Twilio provides phone, VoIP, and messaging integration into web-based, desktop, and mobile software to enable the future of business communications. They connect you with customers through personalized interactions and trusted global communication. Like other platforms, Twilio can collect many different support channels in one platform and dashboard. It's clear that this feature will save you time.
Twilio Pricing
Twilio has not provided pricing information for this product or service. According to G2.com, we can share some price estimations.
Small business: 30% more expensive than the avg. Cloud Communication Platforms product
Mid-market: 7% more expensive than the avg. Cloud Communication Platforms product
Enterprise: 37% more expensive than the avg. Cloud Communication Platforms product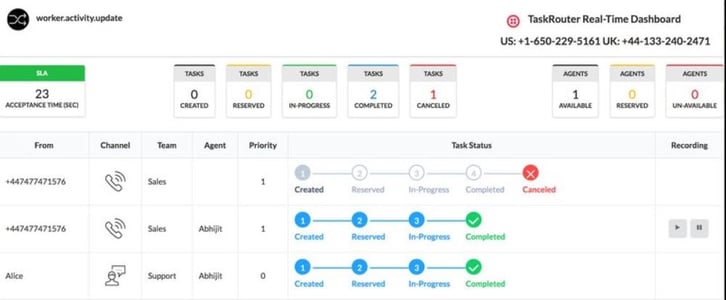 Twilio Summary
Pros: "Twilio is extremely useful in the service it provides. SMS verification, phone verification, and more. Twilio is very reliable and will almost always send out a verification message precisely the way you intended."
Cons: "However, even though Twilio is great at its job, it lacks integration with a few services. It can get convoluted with barely understandable documentation that relies on a first-party programming language."
Anfactor chatbot platform uses AI structure to improve their conversation experience. It is great for small and medium enterprise businesses. You do not need to know anything about complex coding methods. With a no-code interface, customers can easily adapt their organizational processes to chatbot conversation flows.
Anfactor Pricing
Free: Free – total 500 conversations – single domain integration – general email support – no analytics – no social media integration
Basic: 24.99$/month -unlimited conversation – 7 days of analytics – first 50 leads' information – priority support
Professional: 74.99$/month – 15 days analytics – multiple domains integration – Facebook Messenger integration – priority email/phone support
Enterprise: based on scope pricing – custom chatbot development – unlimited conversations – 180 days of analytics – multiple domains integrations – multiple social media integration
Anfactor Summary
Pros: "It understands the business needs and provides the right solution for the right businesses to expand our opportunities. Their certified experts, offering us the most effective and efficient solutions in customer service."
Cons: "I think they should add some extra features in customer Support for more smooth performances & make real-time analysis a bit easier."
You can collect reviews, convert leads, run surveys through messaging conversations. In addition to that, you have a chance to attract new leads with the listing, reviews, and referrals and convert them into customers with conversations and appointments. Its customers emphasize their fast and qualified customer support.
Birdeye Pricing
Unfortunately, Birdeye has not provided pricing information for this product or service.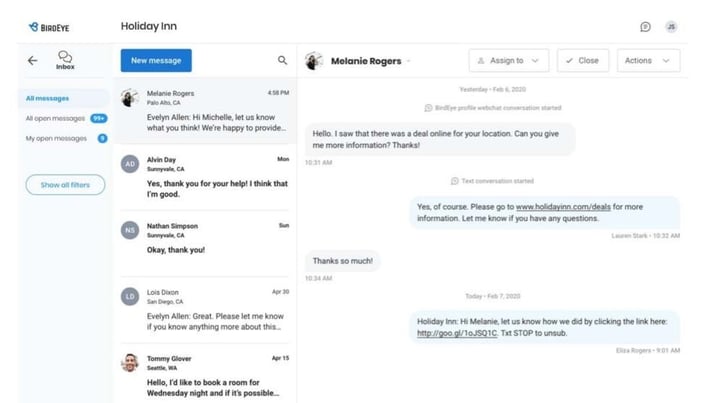 Birdeye Summary
Pros: "I love that I'm able to have all of the reviews from my company's locations in one place. It's such a time-saver than having to go to each individual page to answer reviews across 200+ platforms. It allows me to make guest recovery a seamless experience for myself and guests alike."
Cons: "My only dislike is that Birdeye cannot automatically create tickets for Facebook reviews. there is a manual workaround to complete this. So, we will use this for now. Looking forward to adding this in for future improvement."
Userlike enables your customer relationships to be streamlined through messaging. With Userlike you can chat or connect with your customers on your website, WhatsApp, Facebook Messenger, SMS, Threema, and/or Telegram. Userlike's Message Center is where you get all your messages from your customers' apps, rather than having a separate account for each one.
More than 10,000 businesses, including BMW, Brother, and trusted Shops, have already transformed their customer communication with Userlike.
Userlike Pricing
(When billed annually)
Free: Free – 1 widget – 1 seat – website messenger – unlimited contacts – unlimited conversations
Team: 90$/month – 4 widgets – 4 seats – 1 channel – Add-ons – Whatsapp Channel – channel access
Corporate: 290$/month – Analytics – live channels – live translation – video calls – screen sharing
Business: 720$/month – white label – screen sharing -advanced routing – chatbot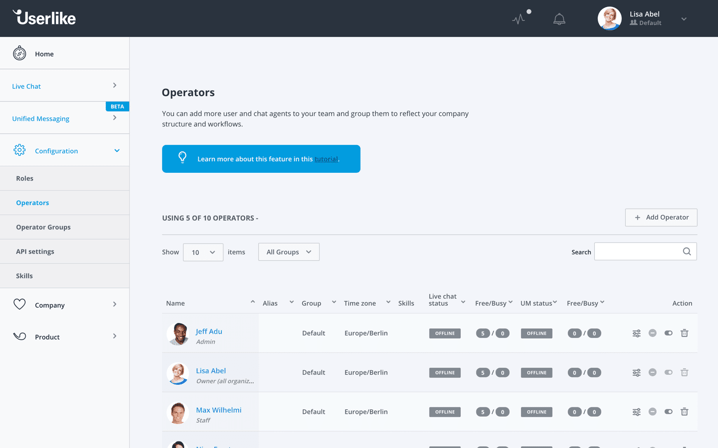 Userlike Summary
Pros: "Userlike is an awesome chat platform. We have started using this after transferring from a different live chat platform that had little to no features."
Cons: "There is not much documentation and some key controls are hidden in places that you wouldn't normally think to look. It took a couple of hours to get them set up complete wherewith better documentation could have taken half that. "
Subscribe to our newsletter
get the latest news.