Chatbot, Conversational Marketing, AI Bot, Conversational AI, Conversational Sales
Top 5 Intercom Alternatives
Do you need to increase your website interaction and reach your potential customers? Do you need a chatbot on your website but haven't decided on it yet? I would like to mention that you are at the right place. In this article, you can find a detailed analysis of Intercom and its alternative service provider platforms. There are many important points to consider to make the right decision. Price ranges, customer support response times, the number of messaging platforms or CRM programs that can be integrated, user-friendly interface, etc. We tried to review them all and summarize them for you.

This blog will provide what you need and you will have a chance to analyze different companies which aim to do the same operations. Additionally, we have also collected some positive and negative reviews from different software rating websites (G2 and Capterra.com). Would you like to start with Intercom?

Intercom is a Customer Communication Platform that builds better customer relationships by using messenger-based experiences across the customer journey. Customers can increase engagement and ROI with chatbots, product tours, email campaigns, proactive messages, transactional messages, self-serve support, and more. With targeted messages, email campaigns, and product tours, you can onboard and activate new customers while reengaging existing clients. It gives a chance to improve business operations and accelerate growth.

Intercom Pricing

Starter: 67$/month (when billed annually) – 1 seat – 1,000 people/mo – conversation routing bot – conversation volume report – csv export – Slack,HubSpot integrations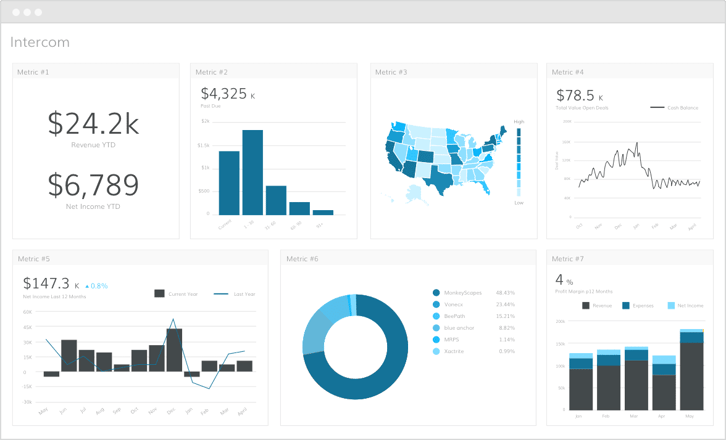 Intercom Summary
Pros: "Support may take some time to answer, but it really feels like they researched what to say instead of just firing templates away. That has been really useful."
Cons: "Sometimes it is hard to find the settings that I want to adjust, there seem to be a lot of different places where settings may hide. Every now and then I run into a random bug or glitch that pauses my workflow."
Why do you need Intercom Alternative?
According to G2 and Capterra software review platforms, Intercom could be expensive for some businesses. In some cases, the first response time of a customer success team can take a long time. Reporting features could be improved and optimized for more detailed statistical data. Salesforce integration needs more development.
Some chat flow capabilities are limited. In addition to that, Hubspot integration is not perfect, one of the Intercom customers requested to have specific Hubspot field matching.
The searching tools can be a little tricky. Sorting option or the searching ability for specific email name or keyword could improve the functionality of the searching tool. In some cases customers couldn't integrate Intercom with Facebook pages/messenger seamlessly, there were still some restrictions.
Top Intercom Alternatives
Botgate AI
The Botgate AI is a conversational marketing and sales platform that provides businesses with a way to connect with existing or potential customers through hybrid bots (humans and AI), strengthening customer relations. With Botgate AI's no-code builder platform, anyone can integrate organizational flows to fit their needs. Companies can convert visitors and potential customers into their new clients by using natural conversation genres and instant customer feedback. Compared with existing chatbot solutions, Botgate AI's hybrid conversation model provides a superior experience.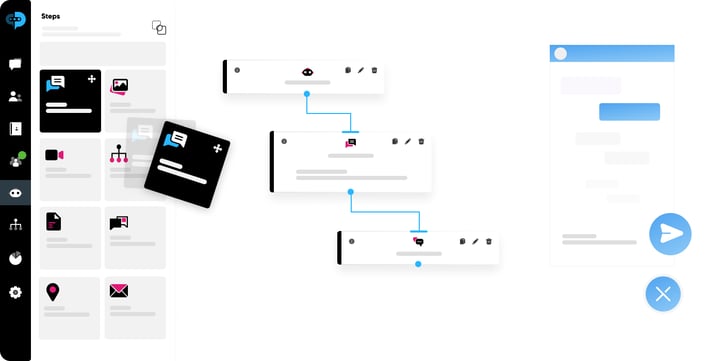 Automating AI conversation processes and live-chats can be integrated through Botgate AI's no-code bot builder. The customer representative can enter into an uninterrupted conversation after visitors have completed certain steps in the conversation. Seamlessly transition ability between chatbot conversation and live chat improves customer experience.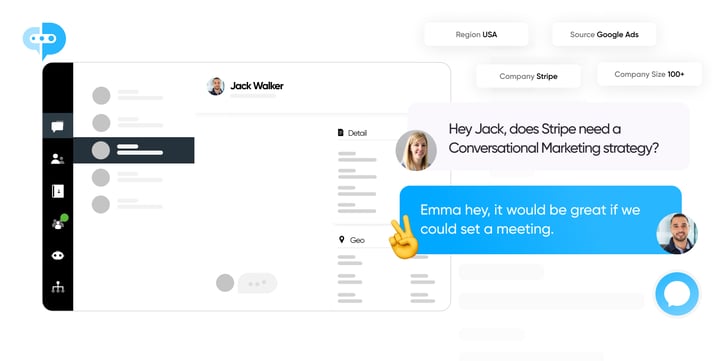 With Botgate AI Playbook, users can tailor the messages based on the characteristics and purposes of the visitors and potential customers. This will definitely help businesses stand out from their competitors. By using this feature, businesses can display customized messages and offers for returned visitors or customers.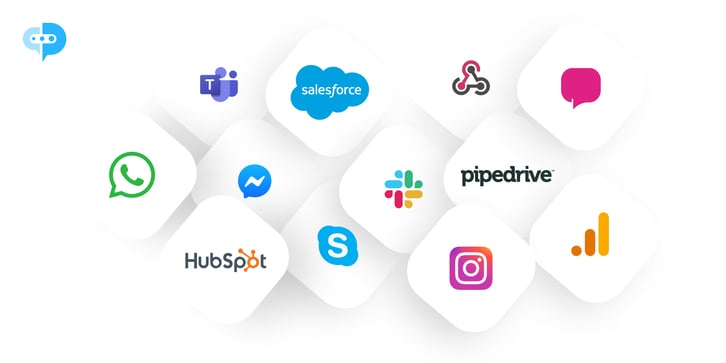 You can integrate Botgate AI into many platforms including Instagram, Slack, Facebook Messenger, Pipeline etc. Finally, I would like to underline Botgate AI's customer-centric organizational mentality. Every member of the team mainly focuses on the best user experience and satisfaction. Their creative and guiding solutions will help businesses to grow better, faster, and more stable.
Botgate AI Summary
Pros:" Botgate AI allows us to get rid of the traditional contact forms, where you might or might not get an answer after you forgot you had submitted something. Thanks to Botgate, and the integration with Slack, we are able to live-chat with people that are looking for a document conversion solution."
Cons: "More dashboard languages can be supported"
Botgate AI Pricing
Botgate AI provides five different plans:
Free: This free plan comes with a single bot and basic live chat functionality.
Starter: This plan will cost you €29 per month. Here, you will get 1 Team Inbox, 500 Active Contacts, 1 Integration, and 2 Workspaces.
Growth: Get this plan at €79 per month, where you will get 2 Team Inbox, 1500 Active Contacts, 2 Integration, and Unlimited Workspaces.
Scale: This plan will charge you €199 per month. In this plan, you can enjoy 3 Team Inbox, 5000 Active Contacts, All Integration, and Unlimited Workspaces.
Enterprise: This is a custom plan with custom features, feel free to contact!
Zendesk Support Suite
Zendesk Support Suite allows businesses to have natural conversations with their customers, without letting them feel what's going on behind the scenes. With the Support Suite, you can have conversations with customers on many channels, such as chat, email, voice, and social messaging apps like Whatsapp, Apple Business Chat, Facebook, and more. In addition to these multi-channel messaging support, it provides a CRM platform that focuses on support, sales, and customer engagement. It's clear that businesses can easily create better customer relationships with these features.
Zendesk Pricing
Foundational Support:19$/month (when billed annually) – essential support for email, Twitter, and Facebook
Suite Team: 49$/month (when billed annually) – Industry-leading ticketing system – Messaging across web, mobile and social – AI-powered automated answers/up to 50
Growth: 79$/month (when billed annually) – light access licenses up to 50 – multilingual support and content - AI-powered automated answers/up to 100
Suite Professional: 99$/month (when billed annually) - Integrated community forums - Private conversation threads - Data Location Options AI-powered automated answers/up to 500
Suite Enterprise: 150$/month (when billed annually) - Custom team roles and permissions - Customizable agent workspaces - Real-time, shareable and advanced reporting, and analytics -Robust APIs – Enterprise rate limit
Additional Enterprise plans: from 215$/month (when billed annually)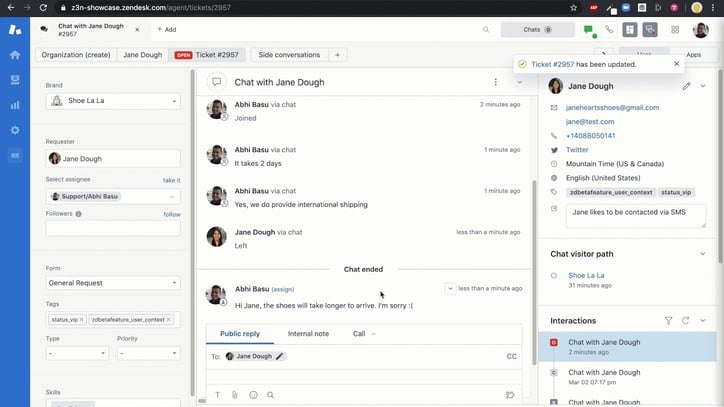 Zendesk Summary
Pros: Zendesk is a great help desk solution. If you have different departments within your organization, you can create a view for each branch of your team.
Cons: The only thing that can be challenging at times is the reporting feature. It can be a little difficult to pull a report for exactly what you are looking for.
Tidio
The multi-faceted, all-in-one customer service platform from Tidio improves your customer service and generates more sales. Its live chat widget makes your business accessible 24/7, and its AI-powered chatbots interact with customers in real-time. With Tidio you could have a chance to deliver great customer service. You can easily and quickly integrate Tidio into your website and create complex conversation flows. They offer a wide variety of products and services.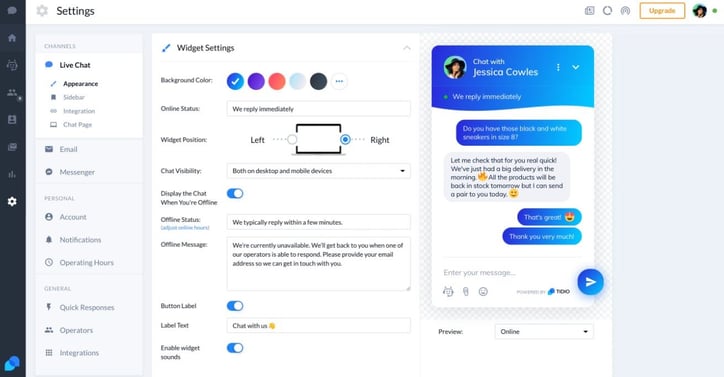 Tidio Pricing
Free: 3 operators available – 100 unique reachable visitors – unlimited chats – desktop&mobile apps – visitors info
Chatbots: 39$/month – 3 operators available - unlimited unique reachable visitors/mo – chatbots templates – visual chatbot editor – zapier integration
Communicator: 15$/month – billed per operators – live typing – viewed pages – permissions – notes – 1-40 operator seats available
Tidio Summary
Pros: "Tidio is simple and affordable. Even with the free plan, you have amazing features to start building a live chat and messaging people over email. Absolutely great."
Cons: "It's got limited export capability and some granular metrics I like to follow seem to be missing. Their add-on/upgrade structure also feels uneven and confusing."
LiveAgent offers an all-in-one help desk solution, so you can add personalization to every customer interaction. A robust customer service portal, an omnichannel universal inbox, real-time live chat, and a built-in call center are just some of the features of LiveAgent. Make your communications more personalized by using LiveAgent's features such as customer segmentation, automation, CRM built-in, a powerful analytics package, and a customer knowledge base. You can answer emails rapidly and link the problem to the right person very fast.
LiveAgent Pricing
Free: 7 days ticket history – 1 chat button – 1 phone number – basic reports – 1 email address
Ticket:15$/agent/month – unlimited ticket history -unlimited email address – customer portal + forum – rules and time rules – customer service
Ticket&Chat: 29$/agent/month – feedback management – real-time visitors monitor – social networks – time tracking – audit log – chat satisfaction surveys – proactive chat invitations
All-inclusive: 49$/agent/month – call center support – video call – call routing – hardware IP phone – unlimited call recordings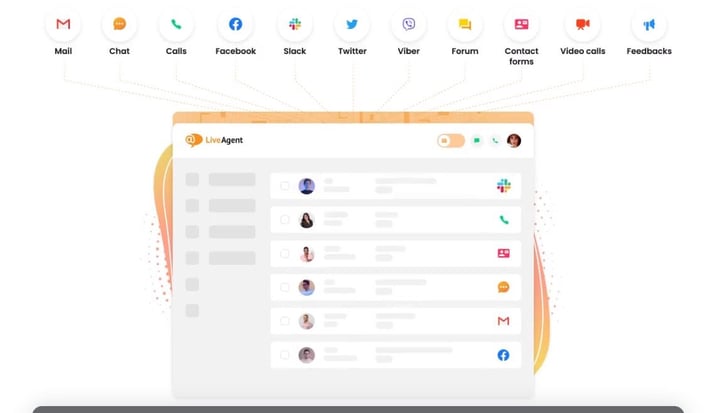 LiveAgent Summary
Pros: "The onboarding process was very professional. Setting up live agent desk was fairly straightforward and when I had an issue connecting the system to my word press website, I had a support person from chat help me."
Cons: "The chats time out after 5 minutes of inactivity and disconnect the user. That means that if they receive a call or distraction at the other end, they need to fill out the fields and start again. "
A conversational AI platform from Verloop.io uses advanced NLP and ML to resolve customer issues using natural language. With Verloop.io you can leverage the power of AI and improve your customer support performance. You can easily integrate Verloop.io's conversational services into your existing CRM services in order to provide personalized customer service. You have a chance to combine or collect data from multiple sources to get a single customer profile.
Verloop.io Pricing
Verloop.io has not provided pricing information for this product or service.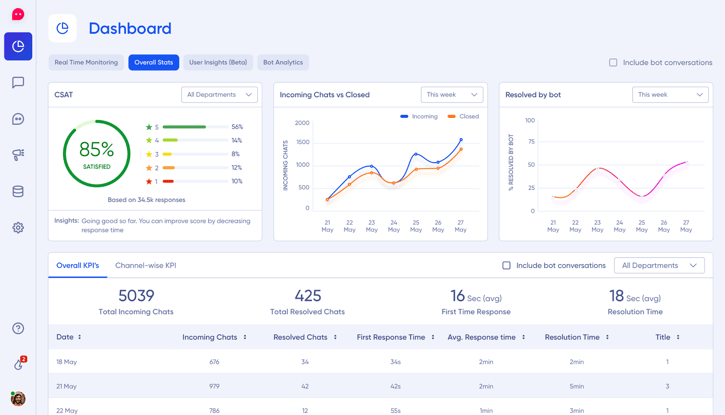 Verloop.io Summary
Pros: "Chat automation for our website has improved our customer service efforts since we implemented Verloop."
Cons: "Takes a while to set up but is worth the time and effort. Some features are limited and/or are coming soon like email campaigns and automation Verloop branding can only be removed if you are in their highest premier plan"
Subscribe to our newsletter
get the latest news.