Chatbot, Conversational Marketing, AI Bot, Conversational AI, Conversational Sales, Lead Generation
Top 5 Tidio Alternatives
As with most companies, I'm confident that conversational marketing is becoming a daily trend and we're trying to keep up with the times when traditional marketing is being pushed to the blurry side of history.
Tidio is one of the common tools employed in conversational marketing, but in the growing field, a monopoly no longer exists. That's why we researched Tidio alternatives for you and created this piece of content that we think will help you.
Before moving on to other alternatives in the field of Conversational Marketing, we thought we need to explain what exactly Tidio is. Here we go...


What is Tidio?
"Tidio is the all-in-one customer service platform that improves your customer support and increases your sales. An easily accessible live chat widget makes your business available 24/7, while AI-powered chatbots engage your customers in real-time, so you can sell more."
Tidio is a good tool to do conversational marketing but its AI features are not really well developed and its narrow quotas may cause some problems
First I'll give some information about Tidio pricing and reviews but after I'll mention the other reasons which make you look for an alternative.
We are writing this article based not only on our own ideas but also on user comments on sites such as G2 and Capterra.
After all, I'll tell you about some Tidio alternatives which you can take advantage of if you're looking for a new platform.
Tidio Pricing
Communicator $15/mo (1 chat operator
Chatbots $39 (3 chat operators)
Tidio Reviews
Pros: "It was quick and easy to integrate Tidio into our own website;"
Cons: "The team would have considered creating video tutorials on how to develop and deploy a chatbot because creating the chatbot from scratch is a headache and requires a wider technical knowledge"
Why do you need a Tidio Alternative
1- Hard Chatbot Creation
Tidio is really easy to integrate into your website but when it comes to creating a chatbot, using this interface can be really hard. As we know your sales teams aren't constituted of engineers so an easier (user-friendly) interface can be better. Perhaps the most important thing for customers in today's tools is the ease of use of the product. Unfortunately, Tidio lags a little behind at this point. A product that your whole team can easily use will give you much more efficiency.
2- Little Quotas and Extra Payments
Many users have difficulties reaching really fast to the limits of quota, and some of them declare that they don't even have the promised traffic. And you need to pay for extra users. Therefore, a tool with which you can move more comfortably with wider plans will be better for you.
Top Tidio Alternatives
After our reviews of Tidio, we can take a look at possible alternatives.
Botgate AI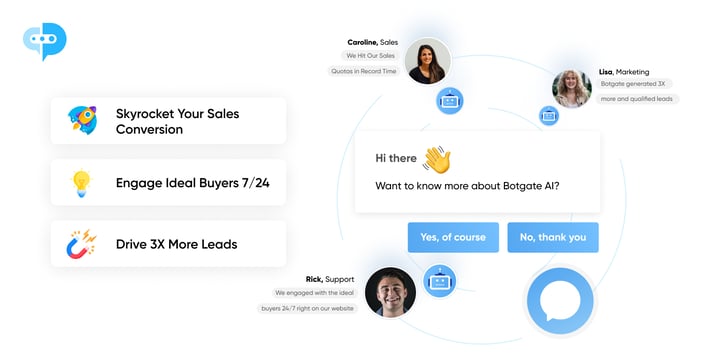 Botgate is a specialist in hybrid chatbots (human + AI), which manage the majority of the initial conversations with visitors on your website. These bots use a combination of artificial intelligence and human-guided interactions to provide visitors with relevant information, answer their questions, and guide them through their individual purchasing journeys.
Botgate AI is a tool that provides businesses with a faster lead generation process and a quicker sales cycle.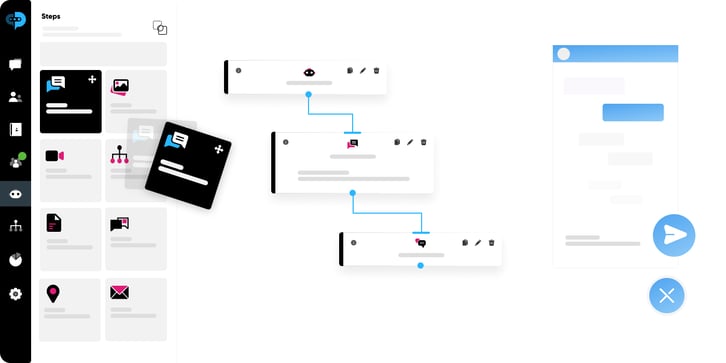 Features of Botgate AI
What you can do with Botgate AI:
AI Bots
Live Chat
Hybrid Conversations (AI + Human)
Personalized Proactive Messages (Playbooks)
Advanced Targeting
Advanced Conversation Routing
Account-Based Marketing
NLU & NLP
WhatsApp Bots, Instagram Bots.


Here are a handful of reasons to use Botgate AI. The software is easy to use and enables you to create a bot without needing any technical knowledge. The no-code AI will also allow you to add new elements by dragging and dropping them onto templates. If you encounter any problems, Botgate's customer support team will be able to assist you.
Botgate AI allows you to use both live chat and AI bots in all its plans. This means you can instantly create your automated bot conversations and connect them with your live agents if necessary. Like I mentioned before, what kind of a product can be better than both humans and AI, the answer is definitely a hybrid bot :), Additionally, Botgate AI charges the least among its competitors, even with fast customer support.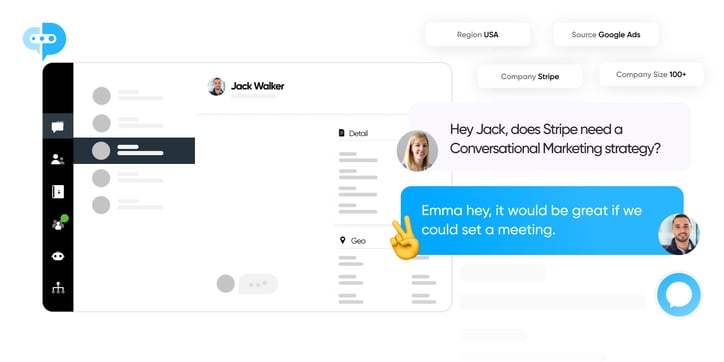 Playbooks
Marketers are using Botgate AI to create personalized interactions that convert potential customers. Creating a Playbook, you can route each visitor with a personalized greeting, and monitor customers as they come to your site. Playbooks are bots that use machine learning to send proactive messages that make customers feel special, giving your agents time to focus on other aspects of your business.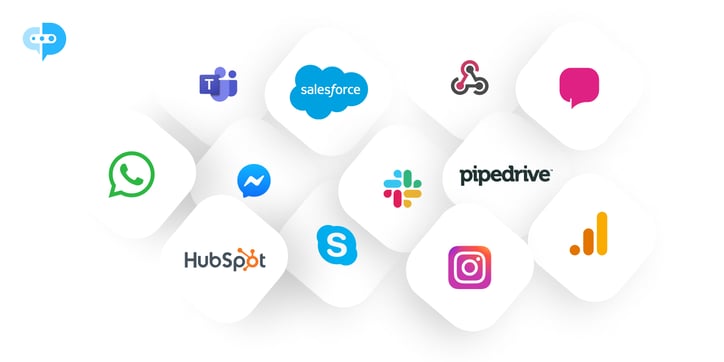 Integrations
Botgate's user-friendly application has been integrated into many popular platforms and CRMs, allowing you to use it in ways that work best for your business. Its integration with WhatsApp allows your team to also use WhatsApp efficiently while running your business.
Botgate AI Pricing
Botgate AI provides five different plans:
Free: This free plan comes with a single bot and basic live chat functionality.
Starter: This plan will cost you €29 per month. Here, you will get 1 Team Inbox, 500 Active Contacts, 1 Integration, and 2 Workspaces.
Growth: Get this plan at €79 per month, where you will get 2 Team Inbox, 1500 Active Contacts, 2 Integration, and Unlimited Workspaces.
Scale: This plan will charge you €199 per month. In this plan, you can enjoy 3 Team Inbox, 5000 Active Contacts, All Integration, and Unlimited Workspaces.
Enterprise: This is a custom plan with custom features, feel free to contact!
Intercom
In a short way Intercom is a customer communications platform.
Intercom is a really good communication tool with very big customers but still have some integration problems with some platforms and websites.
It's a good alternative but a big company like Intercom may give you some difficulties with customer support.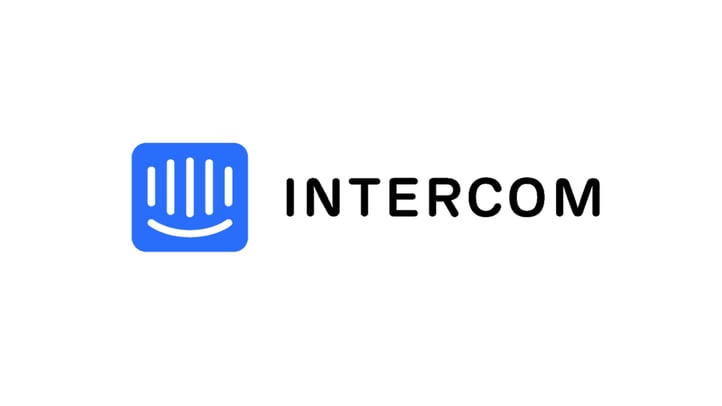 Intercom Pricing
Intercom Essential: 38$/mo
Intercom Pro: 75/mo
Intercom Premium: Custom pricing
Intercom Reviews
Pros: "Intercom recently moved their emails from campaigns to series. There was a little learning curve getting used to the series function, but it has opened up a whole new world of possibilities for us in terms of communicating with our customers."
Cons: " Can't integrate with Facebook pages/messenger seamlessly-there are still some restrictions."
LiveChat
"LiveChat is a live chat application that can be integrated into your website to capture more leads and close more sales. Having LiveChat on your website means that on-site visitors can send you their questions and receive answers in no time."
LiveChat is a cheap alternative to Intercom but it is really basic for today's circumstances, It doesn't have AI features that may help your sales team handle relationships with your customers.
Today a chatbot without AI, it's like a cake without sugar :).
LiveChat Pricing
Starter: 16$ per seat/month (billed annually)
Team: 33$ per seat/month (billed annually)
Business: 50$ per seat/month (billed annually)
Enterprise: 149$ per seat/month (billed annually)
LiveChat Reviews
Pros: "I like the avalanche of customer engagement tools which Livechat provides, to trigger or maintain conversations with website visitors all through their stay on our website"
Cons: "The app is lagging a lot. Sometimes there are a lot of glitches which takes a lot of time to update."

Drift
Drift is an all-in-one platform that combines Live Chat, Conversational Marketing, and Conversational Sales to help companies grow revenue and increase customer lifetime value, faster.
Drift is one of the best and oldest chatbots on the internet! It has no integration limits like Qualified has, and you can have a little better service than Qualified with the same amount of money!
It's a good alternative if you have a lot of money to splurge.
Drift Pricing
Drift has no pricing plans, all prices are special for customers.
Drift Reviews
Pros: "The fact that the interface is easy to work with and use."
Cons: "There is currently no ability to implement tracking scripts that communicate with other marketing platforms (LinkedIn campaign manager, for example)."
Chatify
Chatify is a live chat application that allows you to interact with your consumers. Chatify allows you to communicate with your consumers at any time.

Its suitability for cooperation is one of its most crucial aspects. Chatify allows you to use the product with an unlimited number of agents, allowing your agents to communicate with your clients more efficiently.

You may also use Chatify on your phone thanks to the phone app. It's worth noting that they're the first to use this feature. You don't have to be in the office to communicate with your customers, which is a useful feature.
Because of its AI framework, it can answer simple frequently asked queries from your customers, despite its lack of sophistication. This entails being available to your customers 24 hours a day, seven days a week.

The fact that the payment plan is based on the dialogue rather than the agent has both positive and negative implications. At this time, you should think about what your organization requires.
Chatify Pricing
Starter 49$/month, billed annually, 250 conversations
Pro 89$/month, billed annually, 500 conversations
Pro plus 169$/month, billed annually, 1000 conversations


Conclusion
If you have decided to switch from Tidio, you should go with:
Botgate AI, if you need an all-in-one solution with an affordable pricing
Intercom, if you want to have a similar service and if you're okay with the absence of some integrations
LiveChat, if you need something really basic without Artificial Intelligence.
Drift, if you want the biggest and the most expensive
Chatify, if you want a simpler chatbot
Subscribe to our newsletter
get the latest news.