Chatbot, Conversational Marketing, AI Bot, Conversational AI, Lead Generation
Top 5 Chatfuel Alternatives
In this article, you can find a detailed examination of Chatfuel and its alternatives. Have you ever thought about how you decide to select your service provider? By looking at their price ranges, competitor comparison, creative perspective, customer service quality, integration ability, or user experience design?
In this article, you can learn about these topics and more. You will have a chance to analyze different companies which have the "same" operational functions. Additionally, we have also collected some positive and negative reviews from different software rating websites (G2 and Capterra.com). Would you like to start with Chatfuel?
Chatfuel provides a no-code chatbot platform for businesses. Some of the important business steps such as marketing, lead gen, and support can be automated by drag and drop builder. The drag and drop interface for building chatbots is simple and intuitive.
Chatfuel doesn't require any coding or tech knowledge, so you can build a simple bot for your business in a matter of minutes. In addition to that, the 24/7 serviceability of the chatbot allows users to interact with customers at any time.
Chatfuel Pricing
Free: Free 50 conversations – Priority Support for first 30 days
Entrepreneur: 9.99$ - 100 conversations/month – Priority Support
Startup: 39.99$ - 1000 conversations/month – Priority Support
Small Business: 124.99$ - 5000 conversations/month – Priority Support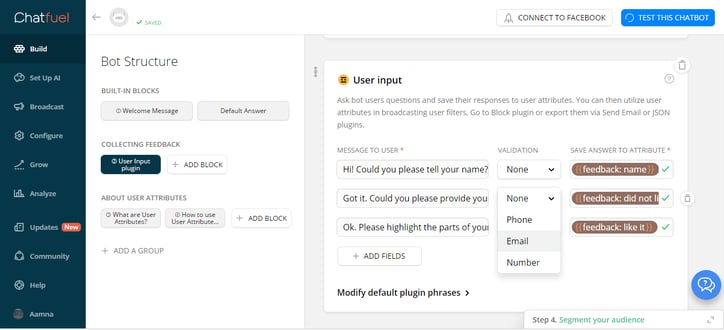 Chatfuel Summary
Pros: "It's a great way to create a chatbot that is simple and improves the user journey on your website."
Cons: "Server seems to slow down at busy times affecting user experience and bot performance."
Why you need Chatfuel Alternative
If you make a change on the flow, you need to make it in real-time where you have it implemented and are unable to test it without affecting production. A test button would be great to prevent unexpected errors from appearing in the live version.
Some users have stated that the help documentation is not sufficient for some modules. In addition to that, a watermark appears in the trial version until you purchase the full version.
Some of the pre-built sequences like phone numbers have strict validation. So any variance from the form it's looking for causes an error. You then need to do a user input without validation. The downside to that is no quick responses are allowed on that type of field.
Chatfuel is directly linked to Facebook and therefore also limited to creating chatbots only for Facebook Messenger. In addition to that, It does not provide a graphical interface to understand how your different chat sections relate to each other. This makes it a little harder to design large and complex flows. You cannot build any complex chatbots on Chatfuel. NLP is not good enough as it should be.
Top Chatfuel Alternatives
Botgate AI
Botgate AI is a no-code Conversational Marketing & Sales platform that allows businesses to reach their existing or potential customers. It provides hybrid bots (human-AI) to improve and enrich overall customer satisfaction through conversations. With natural conversation structures and feedback, businesses have a chance to turn their visitors into their new customers.
I would like to mention that it would be unfair to identify Botgate AI as a standard chatbot platform or service provider. Its hybrid conversation model offers an experience far beyond other existing products.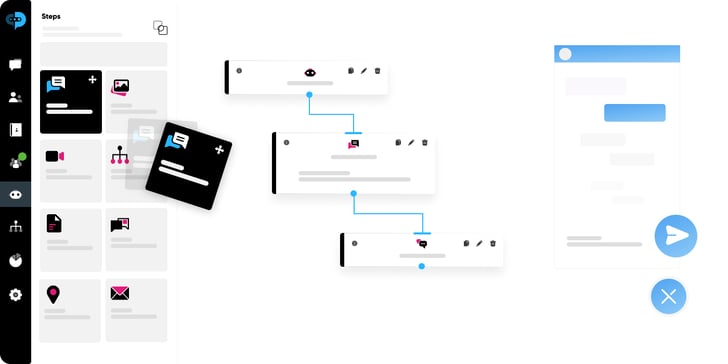 No-code AI bot builder provides an easy drag and drop interface. That means everyone can instantly simulate their complex business workflows at Botgate AI design interface in minutes. Users also have a chance to connect automated AI conversation processes with live chats. After certain conversation steps, customer representatives can step in and engage in uninterrupted conversation. It's clear that an uninterrupted live-chat transition will significantly increase the customer experience.
The Playbook feature is one of the most important and useful features of Botgate AI. You can personalize the messages according to visitors' purposes and attitudes. Targeted special messages definitely give businesses a significant advantage over their potential customers. With this feature, they may offer different welcome messages or discount coupons for returned visitors.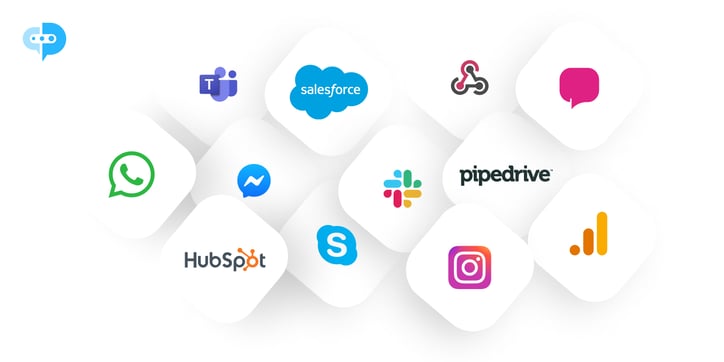 You can integrate Botgate AI into many platforms including Instagram, Slack, Facebook Messenger, Pipeline etc. Finally, Botgate AI is a customer-centric company and the team focuses on adding value & intelligence for better customer service. Fast response times and friendly customer support approaches make their difference in the market.
Botgate AI Summary
Pros: "A conversion rate increase by 25% and a 70% reduction in customer response time, resulting from automated FAQs with artificial intelligence, led to a happier business, happier customer team, and happier guests as a result."
Cons: "Once, I was faced with an API integration problem, but thanks to the fast customer support team, I've solved my problem within minutes."
Botgate AI Pricing
Botgate AI provides five different plans:
Free: This free plan comes with a single bot and basic live chat functionality.
Starter: This plan will cost you €29 per month. Here, you will get 1 Team Inbox, 500 Active Contacts, 1 Integration, and 2 Workspaces.
Growth: Get this plan at €79 per month, where you will get 2 Team Inbox, 1500 Active Contacts, 2 Integration, and Unlimited Workspaces.
Scale: This plan will charge you €199 per month. In this plan, you can enjoy 3 Team Inbox, 5000 Active Contacts, All Integration, and Unlimited Workspaces.
Enterprise: This is a custom plan with custom features, feel free to contact!
IBM Watson Assistant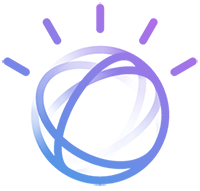 IBM Watson Assistant is a virtual agent that provides customers accurate answers across any messaging platform, application, device or channel. You can provide complete and accurate answers to your customers with robust topic understanding, AI-powered intelligent search, and human-agent handoff. Users can adopt AI to customer needs so that conversations don't break when deviations happen.
Pricing
Lite plan: Free – 1,000 users/month – 5 skills – 7-day analytics dashboard
Plus plan:140$ - 1,000 users/month – 50 skills – 30 day analytics dashboard
Enterprise plan: Contact for pricing – 100 skills – 90-day analytics dashboard – onboarding support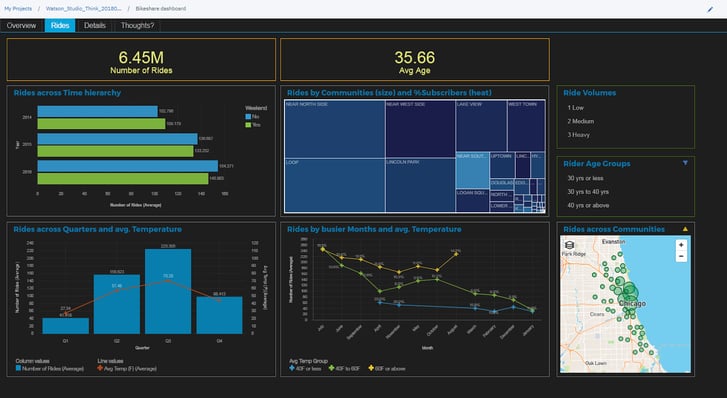 IBM Watsons Summary
Pros: "Watson is versatile and surprisingly user friendly. The team that helped us get Watson implemented went way above and beyond."
Cons: "There's a bit of a learning curve with the platform's terms. The interface can feel a bit daunting, and I would like more readily available and user-friendly help references and tutorials."
Tars is designed to help marketing and customer service teams to automate and optimize their routine operations. Tars provide 950+ chatbot templates across 18 industries and a drag and drop user-friendly interface. It's clear that their wide variety of templates provides great convenience for users.
Users can also access AI-powered support chatbots, predictive support functions, and field service management. Responsive and pleasant Tars team improves their service quality.
Pricing
Business plan: Free - 1 web chatbot – 5,000 chats/month – 3 users
Premium plan: Contact for pricing – 3 web chatbots – 10,000 web chats/month – 1 Whatsapp business API number– 5 users
Enterprise plan: Contact for pricing – 5 web chatbots – 20,000 web chats/month – 2 Whatsapp business API numbers – 10 users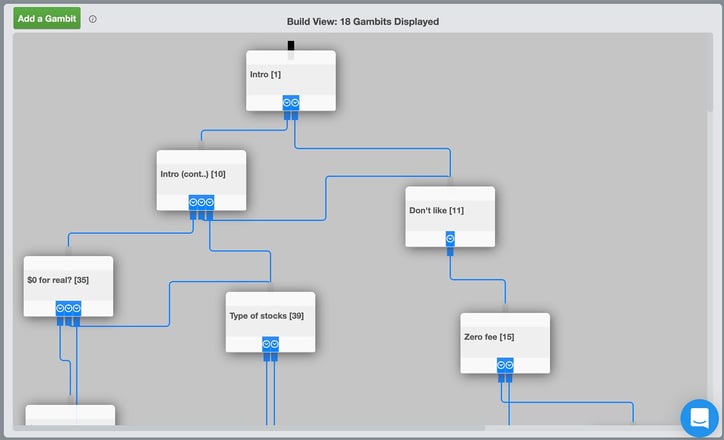 TARS Summary
Pros: "Well designed and highly customizable chatbot application"
Cons: "Depending on your objectives and how you implement the chatbot, tracking can be a little tricky."

ManyChat is mainly built for sales and marketing operations. Customers can start conversations through Instagram Direct Messages or Facebook Messenger and Manychat can capture phone numbers or emails with automation. As a result of this capturing process, customers can deliver coupons, newsletters, promotions, booking confirmations, and more, through SMS or email.
Businesses can now send SMS and Email directly through ManyChat, making it possible for them to create full automation sequences and reach their customers on multiple platforms. Thousands of businesses worldwide have used ManyChat's Facebook Messenger Experience for their Facebook pages since it launched in 2016.
Manychat Summary
Pros: "It directly integrates with your eCommerce store like Shopify & you can take orders, receive payment on the chatbot itself by using PayPal/stripe."
Cons:"It would be valuable to be able to send data out of Manychat more easily for analytic purposes. No ability to download .csv data is a bit painful. This means any data you want has to use Google Sheets. Not great multi-language support"
Pricing
Free plan: 1,000 contacts, automated conversations, Email support, Facebook Messenger, Whatsapp, Instagram Direct Messages, 10 customer tags
Pro plan: 15$/mo / scales with the number of contacts - SMS Text Messaging - Email (pay as you go), unlimited customer tags, no branding
Mobile Monkey is the World's Leading OmniChat Platform allowing companies to connect with their customers in real-time via Web Chat, SMS, Facebook Messenger, Instagram, and WhatsApp. OmniChat technology from MobileMonkey lets marketers create a single chatbot funnel that works flawlessly across multiple messaging platforms.
The Android and iOS mobile apps make it easy to manage conversations from messaging apps. With MobileMonkey OmniChat, your customers and leads will always have access to the optimal chatbot experience, regardless of the device on which they are messaging. Messaging history is maintained in one inbox, regardless of whether they are messaging via Facebook Messenger or SMS!
Mobile Monkey Summary
Pros: "Creating customized chat experiences with Mobilemonkey chatbots has been incredible. They offer chatbot templates that make it easy for us to deploy chatbots in no time."
Cons: There is some latency during conversations. Live back and forth conversations on Facebook do not run as smoothly as the native app.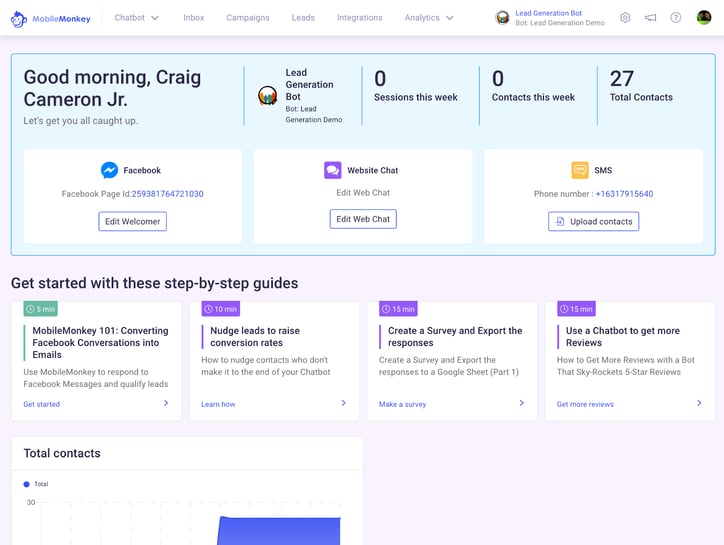 Pricing
We couldn't find any pricing information on their website. According to capterra.com, they have a free version and their paid plans start at 19$/mo.
Free Plan
Paid Plans: from 19$/mo per feature.
Subscribe to our newsletter
get the latest news.