Chatbot, Conversational Marketing, Conversational AI, Conversational Sales, Lead Generation
Top 5 Landbot Alternatives
Are you looking for the best and easy-to-use chatbot platform apps? In this article, we have reviewed the top Landbot alternative that makes a great option for those who want to build chatbots without coding. If you are planning to build high-quality and interactive bots, stick around till the end.

What is Landbot?
​​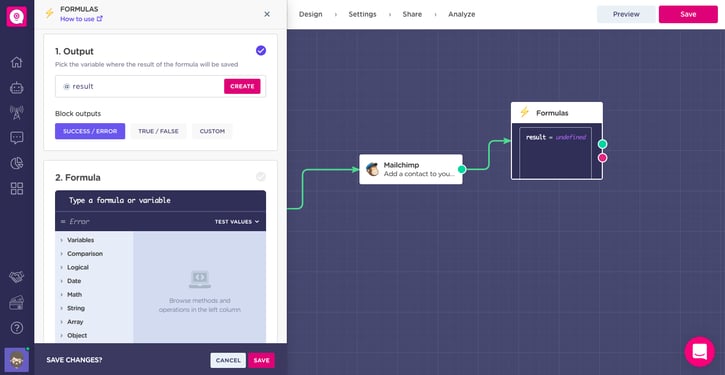 In short, Landbot is a popular chatbot platform that lets you build interactive chatbots without having any coding knowledge. In addition, you can create bots for using marketing on Facebook Messenger and WhatsApp.
It's very simple and user-friendly but because AI features are not included in the free plan, you can't try the AI features. It's important to note, though, that Landbot isn't the most powerful or most developed tool on the market.

After I tell you about the pricing and the reviews, I will share with you some other reasons.
You can also find a list of tools that might be a great alternative to Landbot if you're looking for some other options rather than Landbot. These include low-cost alternatives to Landbot as well.
Features of Landbot
Code-free chatbot development
Drag and drop interface
Simple integration features
Built-in templates
Variables for data collection
Multi-channel products
Landbot Pricing
Free (no credit card required)
Starter plan: €30/month, includes basic features and 500 chats/mo
Professional plan: $80/month, includes Starter plan's features, and 2500 chats/mo
Business plan: customized pricing, requires contact with sales
Landbot Reviews
Pros: "The overall functionality of the bot is great for basic use."
Cons: "Landbot may seem quite easy to use at first but things can get quite tricky if you want to develop an advanced or complex bot."
Why do you need a Landbot Alternative
1- Only Supports English
At first, English might be enough for you. But once you grow and have international customers, you may need to give more language support to them. In this case, LandBot could cause a little trouble :)
2- Chat Limitation for WhatsApp
We have seen that some providers limit the number of conversations on WhatsApp and apply an extra cost per each conversation. It's important to know that there are other options out there that give you unlimited conversations on WhatsApp.
3- No Personalization
No personalization? In this era? Personalization is so important in the marketing game right now that cannot be ignored. We all know what this means. More LEADS! Some tools in the market allow you to target your visitors and personalize the first message as much as possible to interact with them.
4- No Free Trials
Although there is no entry-level setup fee, the platform does not offer free trials either. We need tools that offer free trials so that we can end the paid subscription if it doesn't work well. So, Landbot might not work for you if you are looking for free trials.
5- Not For Complex Bots
Landbot might have the features required to build a basic chatbot, but if you want a more complex design, this drag-and-drop service might not be the most suitable choice for you.
Top Landbot Alternatives

Having learned what Landbot is, what it's for, and the main challenges you run into when using it, we can move right into exploring alternatives.
In this article, we'll examine each tool, how it compares to Landbot, and in which cases they are preferable. First up, let's talk about our first product:
Botgate AI
Botgate AI is a no-code Conversational Marketing & Sales platform based on Conversational AI that helps businesses to interact more with their potential clients. Through Botgate AI, businesses are able to grow faster through enhanced Lead Generation processes and accelerated sales cycles.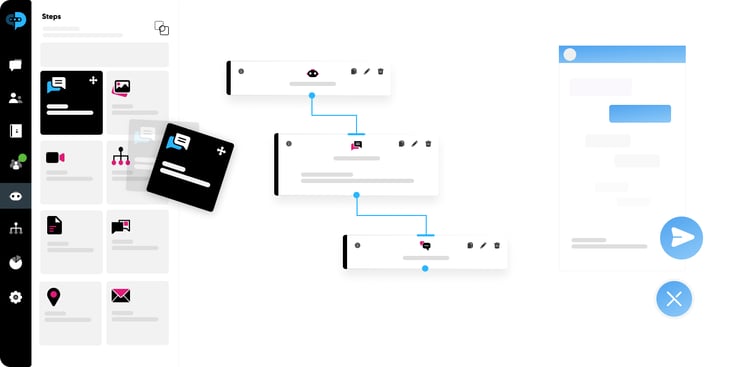 What you can do with Botgate AI:
AI Bots
Live Chat
Hybrid Conversations (AI + Human)
Personalized Proactive Messages (Playbooks)
Advanced Targeting
Advanced Conversation Routing
Account-Based Marketing
NLU & NLP
WhatsApp Bots, Instagram Bots..
These are just a few features for you to check out Botgate AI. Contrary to popular belief, there is no coding requirement :) You can create your own bot just in seconds. With Botgate's no-code AI Bot Builder, new elements can be easily added by dragging and dropping them onto any template.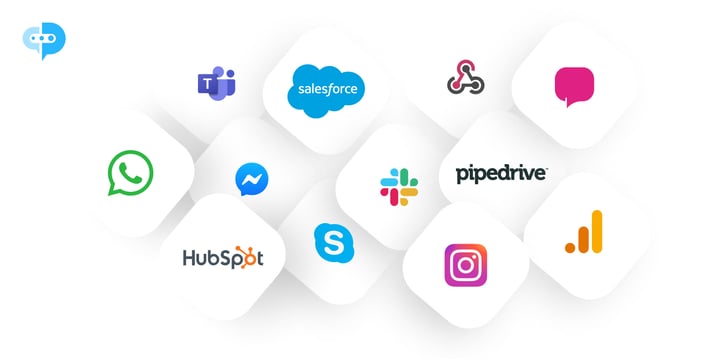 You can integrate Botgate AI into many platforms including Instagram, Slack, Facebook Messenger, Pipeline etc. Botgate AI allows you to use both AI Bots and livechat option for all its plans. That means you can instantly create your automated bot conversations and connect them with your live agents if necessary.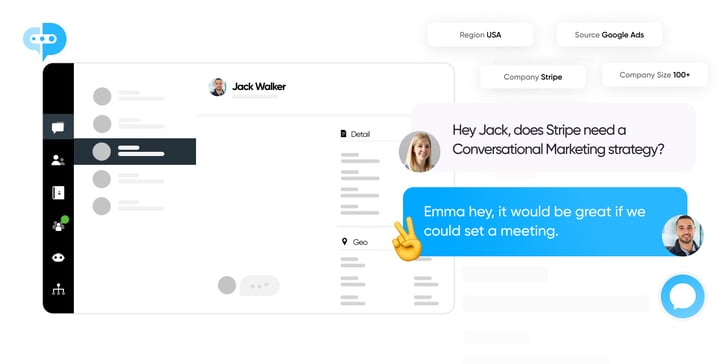 Most marketers are using Botgate AI's personalized Playbooks to convert their potential customers. Using Playbooks, you can target each visitor with a personalized greeting and route them to the right person.
Botgate AI Pricing
Botgate AI provides five different plans:
Free: This free plan comes with a single bot and basic live chat functionality.
Starter: This plan will cost you €29 per month. Here, you will get 1 Team Inbox, 500 Active Contacts, 1 Integration, and 2 Workspaces.
Growth: Get this plan at €79 per month, where you will get 2 Team Inbox, 1500 Active Contacts, 2 Integration, and Unlimited Workspaces.
Scale: This plan will charge you €199 per month. In this plan, you can enjoy 3 Team Inbox, 5000 Active Contacts, All Integration, and Unlimited Workspaces.
Enterprise: This is a custom plan with custom features, feel free to contact!
Botgate AI Reviews
Pros: "User experience and onboarding are high-end. The market is really competitive but this tool is ahead of the game."
Cons: "​​They can have more integrations with other e-commerce tools."
Chatbot
With ChatBot you can create chatbots in minutes using a variety of templates.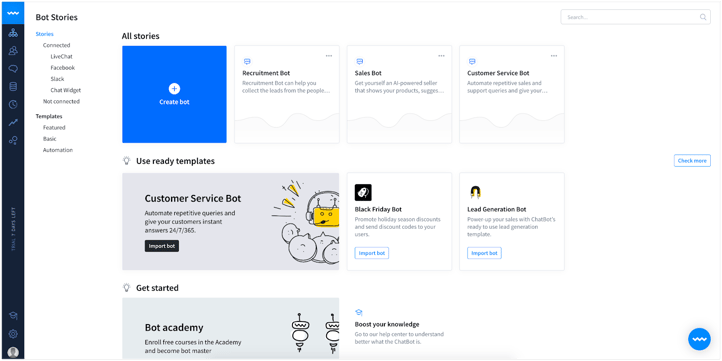 Using ChatBot, businesses can automate parts of their customer service operations, such as answering basic questions and conducting simple conversations.
There are features such as defining behaviors, programming responses and testing your bots in real time before publishing them. ChatBot is actually known for its very userfriendly interface.
However, not always bots cover your customers requests and you may want your live agents to take over the conversations. Unfortunately, you can't do this by only using ChatBot.
ChatBot Pricing
Free trial for 14 days (no credit card required)
Starter plan: €50/month, includes basic features, 1 active chatbot and 1000 chats/mo
Team plan: $149/month, includes Starter plan's features, 5 active chatbots and 5000 chats/mo
Business plan: $499/month, includes unlimited active chatbots and 25000 chats/mo
ChatBot Reviews
Pros: "It's most useful when it knows exactly what to answer and saves the hassle of having to seek elsewhere or to call Customer summer service or to read FAQs."
Cons: "The obvious con for ChatBot is the fact it is only useful to web visitors when they have simple complaints and is unable to handle complex customer complaint situations."
ManyChat
With ManyChat, businesses can easily create Facebook Messenger bots for marketing, sales, and customer service.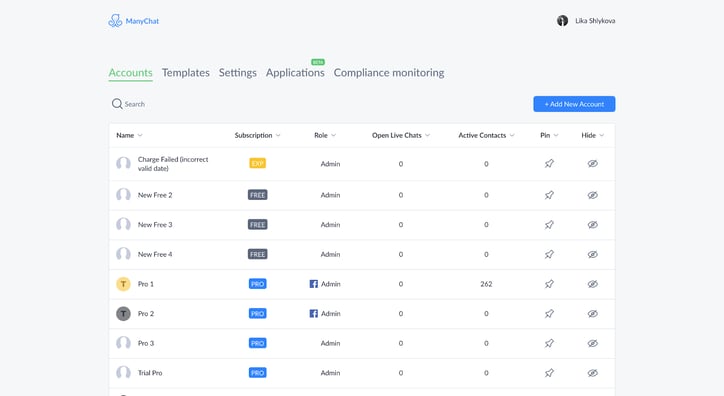 Manychat provides you with a complete set of tools to convert your audience into subscribers, so you can easily grow your Messenger audience. It is so easy to create a chatbot with ManyChat without any coding knowledge just like almost any other tool in the market :) You can also send e-mails and SMS to your customers directly through ManyChat.
But, I hear ya! "This tool is only for Facebook Messenger, right?" Unfortunately, yes.. If you are looking for just a Messenger tool, this might be the right option.
ManyChat Pricing
Free plan(no credit card required)
Pro plan: Starts with €15/month, includes basic features, 500 contacts/mo
But the price scales with the number of contacts :)
ManyChat Reviews
Pros: "The product is very easy to use: despite its high potential and the many things it allows you to do, the menus and features are always organized in an orderly and logical way."
Cons: "I feel the lack of being able to make chatbots for the web channel: at the moment you can only create bots for Messenger, Email, SMS, Telegram, WhatsApp, and Instagram. In the free plan, you can't do almost anything."
Chatfuel
Businesses can use Chatfuel's no-code chatbot platform.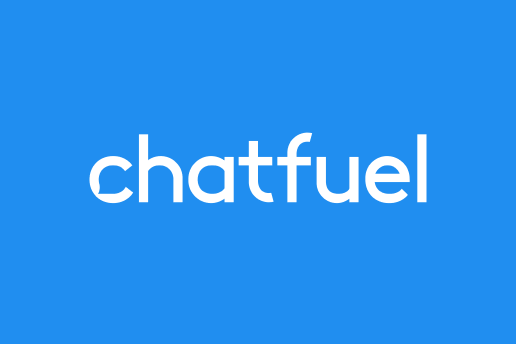 The drag and drop builder can automate several key business processes including marketing, lead generation, and customer service. Building chatbots is simple and intuitive because of the drag-and-drop UI.

Chatfuel doesn't require any coding or technical expertise, so you can create a simple bot for your company in minutes. Furthermore, the chatbot's availability 24 hours a day, 7 days a week allows users to communicate with customers at any time.
Chatfuel Pricing
Free: Free 50 conversations – Priority Support for first 30 days
Entrepreneur: 9.99$ - 100 conversations/month – Priority Support
Startup: 39.99$ - 1000 conversations/month – Priority Support
Small Business: 124.99$ - 5000 conversations/month – Priority Support
Chatfuel Reviews
Pros: "It's a great way to create a chatbot that is simple and improves the user journey on your website."
Cons: "Server seems to slow down at busy times affecting user experience and bot performance."
Tawk.to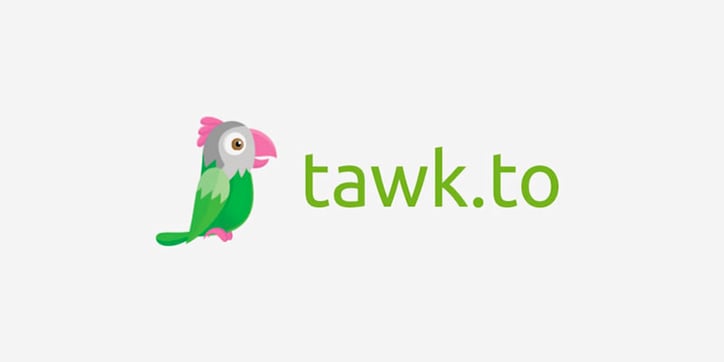 Tawk.to is a live chat widget that you may put on your business's website. It allows you to talk to your customers at the same time, and it's the first step toward Conversational Marketing.

Customers will appreciate being able to speak with your sales representatives right away thanks to tawk.to, as opposed to the traditional marketing technique, in which visitors may contact you days later after filling out a form on your website.

Tawk.to is an excellent tool for e-commerce companies who sell their goods online, but is it sufficient? As I mentioned in the first paragraph, Tawk.to is one of the "first" phases in Conversational Marketing, therefore it's a little unsophisticated.
Tawk.to Reviews
Pros: "The best part of this tool is it has a completely free plan for all users. It is easy to use and setup takes minimum time."
Cons:"When there are more than 5/10 agents on the same website servicing customers, Tawk.to is less helpful as it starts to create problems with the tracking of agents and visitors on the website."
Conclusion
If you have decided to switch from Landbot, you should go with:
Botgate AI, if you need an all-in-one solution with an affordable pricing
ChatBot, if you are ready to pay more for only a chatbot without a live chat option
ManyChat, if you only use Facebook Messenger
Chatfuel, if you want a live chatbot with easy implementation
Tawk.to, if you want an almost free option without AI
Subscribe to our newsletter
get the latest news.