Chatbot, Conversational Marketing, Conversational Sales, Lead Generation
Top 5 Drift Alternatives
Are you hunting for a Drift alternative that is less expensive or has better features?
No matter how big or small your company is, all website visitors want prompt communication from you. If they come to both you and one of your competitors at 3 a.m., they will give their valuable money to the one who answers first and offers all the information they need. As a result, it is critical to interact with customers as soon as possible.
We researched five of the best alternatives to Drift and provided our honest opinions. Therefore, you will be able to pick the best tool for your needs at the completion of this article.
But before proceeding further, let's look at some of the solid or possible reasons why one should switch from Drift to another chat system.
Why Might You Look For a Drift Alternative?

Drift is a top website chat platform, often known as a Conversational Marketing platform, but it's not the only one. Before choosing a single product, though, it's always a good idea to look at other options. Alternatives to Drift may include characteristics that are more in touch with your requirements and expectations, whether they are technological, connected to the company's capacity to provide you with customer service, have to do with the provider's emphasis or are related to other factors.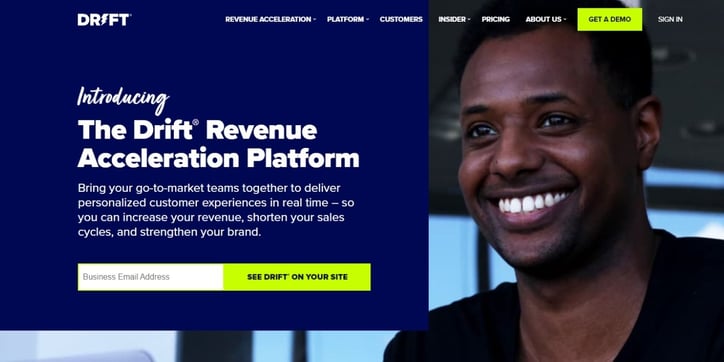 Here are the following reasons why you should look for a Drift alternative:
The app's backend management might be a little complicated, and there is a learning curve to using Drift and modifying its capabilities. In addition, people complained that the dashboard was difficult to use and not as intuitive as they would want.
Like many other service providers, Drift upsells via dashboard notifications, emails, and newsletters. While this isn't a deal-breaker, it may be inconvenient.
When exporting conversation logs into other formats, there may be formatting issues. Users have also reported inaccurate dates, notifications that do not appear, and occasional crashes.
Drift offers multiple distinct price categories, each with greater functionality than the last. This might be an issue if you have a small firm with a limited budget yet want particular capabilities only available at higher levels.
Drift makes a collective effort to get businesses to upgrade to their most costly plan. However, suggesting Drift to firms with several teams that want to use its live chat capabilities, such as routing leads and chats to other departments, is only possible at Drift's most expensive price range. This feature is available from other live chat providers for a significantly lower fee.
Unlike many other popular live chat software solutions, Drift does not support SMS text messaging, Facebook Messenger, WhatsApp, or other similar platforms. Therefore, you must give solutions for various channels, not simply live chat for your website, if you want to be considered one of the top marketing chatbots.
The features that it provides come at a considerable price, and while the specific pricing ranges aren't publicly disclosed, non-enterprise clients may expect to pay hundreds of dollars each month. In addition, due to its complexities, it is unlikely to be the best solution for people looking for a simple live chat platform. This platform is ideally suited for larger businesses, but it may also be used by smaller businesses ready to invest in a more complex and costly tool.
Botgate AI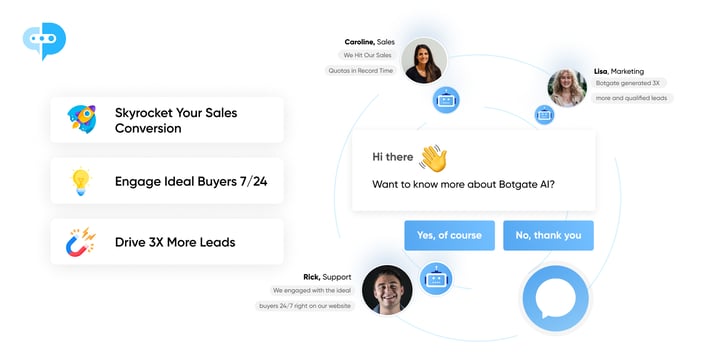 Botgate AI is Conversational Marketing, Sales, and Messaging platform is driven by AI that enables businesses to communicate with their clients more effectively. Its secure cloud-based platform uses best-in-class AI to produce the most efficient conversations. With qualifying conversation and lead capturing options, Botgate AI helps businesses scale quicker. Furthermore, Botgate AI improves lead generation and shortens the sales cycle by providing an ongoing connection with your potential clients.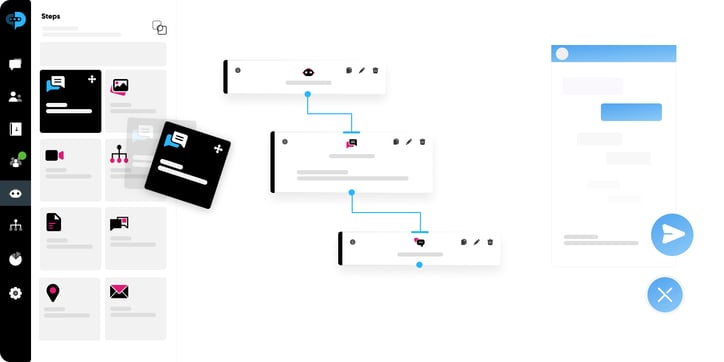 Features of Botgate AI
Botgate AI includes the most vital features of a bot: FAQs, conversation automation, and live chat, all in a user-friendly interface.
You can see who's visiting your website in real-time using Botgate AI, so you can reach out and say hello right away! You may also track a lead and receive push notifications whenever they return to your website.
Conversational Landing Pages allow you to start conversations with a single click.
Rich Messages may be used to create human-like dialogues and boost consumer involvement.
Track the data generated from your chats with its comprehensive reporting tool.
The platform has a hybrid methodology for qualifying leads in order to provide a better customer experience through interactions.
Increase revenue, simplify sales cycles and make purchasing simple.
Integrate Botgate AI Messaging API with channels to keep track of all conversations.
Botgate AI integrates to Hubspot, Pipedrive, Google Analytics, Slack, and other services.
These are just a few features for you to check out Botgate AI. Contrary to popular belief, there is no coding requirement :) You can create your own bot just in seconds. With Botgate's no-code AI Bot Builder, new elements can be easily added by dragging and dropping them onto any template. Besides having a so easy-to-use interface, Botgate's Customer Success team will come to your aid immediately for any challenge you face.
Botgate AI allows you to use both AI Bots and the live chat option for all its plans. That means you can instantly create your automated bot conversations and connect them with your live agents if necessary. Like we mentioned before, what kind of a product can be better than both humans and AI, the answer is definitely a hybrid bot! Additionally, despite having a lot to offer, Botgate AI charges the least among its competitors, even with fast customer support.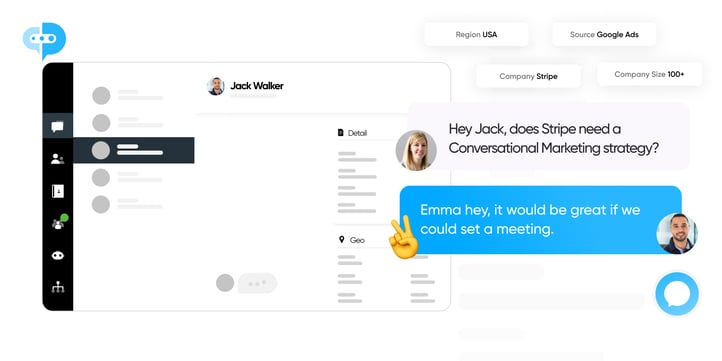 Playbooks
Most marketers are using Botgate AI's personalized Playbooks to convert their potential customers. Using Playbooks, you can target each visitor with a personalized greeting and route them to the right person. Perhaps the strongest aspect of Botgate is its playbooks. Because playbooks are bots that monitor customers coming to your site and send proactive messages to make them feel special. While your agents are busy with other things, playbooks can quickly convince your customers and direct them to the right pages, allowing you to increase your conversion rates significantly.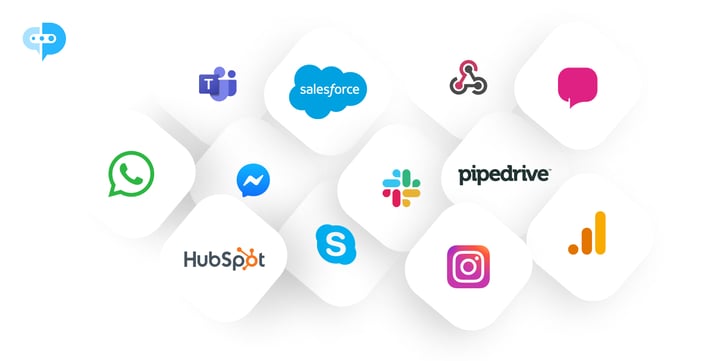 Integrations
Another of Botgate's most successful features is that it can be integrated into almost all platforms and CRMs. Facebook Messenger, Slack, Hubspot, etc. It is also one of the first companies to provide Instagram integration. This abundance of integrations allows you to use Botgate as you wish, on platforms you are familiar with. Whatsapp Busıness API feature also allows your entire team to use WhatsApp efficiently while running your business.
Pricing of Botgate AI
Botgate AI provides five different plans:
Free: This free plan comes with a single bot and basic live chat functionality.
Starter: This plan will cost you €29 per month. Here, you will get 1 Team Inbox, 500 Active Contacts, 1 Integration, and 2 Workspaces.
Growth: Get this plan at €79 per month, where you will get 2 Team Inbox, 1500 Active Contacts, 2 Integration, and Unlimited Workspaces.
Scale: This plan will charge you €199 per month. In this plan, you can enjoy 3 Team Inbox, 5000 Active Contacts, All Integration, and Unlimited Workspaces.
Enterprise: This is a custom plan with custom features, feel free to contact!
Botgate AI Reviews
Pros: "User experience and onboarding are high-end. The market is really competitive but this tool is ahead of the game."
Cons: "​​They can have more integrations with other e-commerce tools."
Freshdesk
Freshdesk is a cloud-based customer support platform that allows businesses of all sizes to provide exceptional customer service. Freshdesk turns email, phone, chat, and social inquiries into tickets and unifies ticket resolution across channels.
Moreover, Freshdesk also allows you to automate workflows, provide self-service, monitor SLAs, and measure KPIs, allowing you to keep on top of all things customer support. Freshdesk also includes pre-installed tools such as an AI-powered support chatbot, field service management, and predictive assistance capabilities.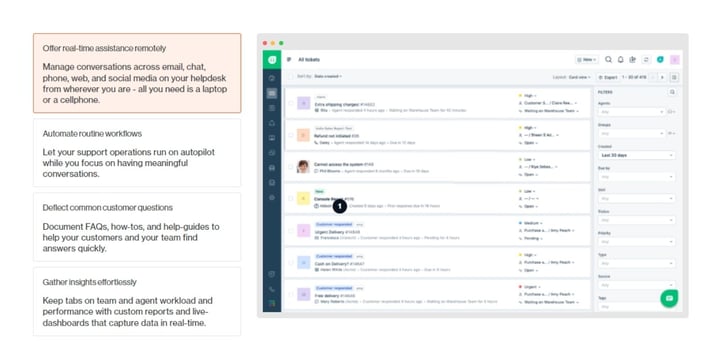 Features of Freshdesk
You can track and handle incoming support tickets from numerous channels with a single inbox.
Set ticket response and resolution deadlines depending on various business hours or categories.
Create custom statuses that are appropriate for your process to indicate the state of a ticket.
You may perform several actions on a ticket with a single click by automating repeated operations.
With its Omnichannel dashboard, you can obtain a birds-eye perspective of your team's success across channels.
You may provide self-service through a web widget, knowledge base, chat, bots, messaging, and even over the telephone.
Schedule reports at specified times and tailors them to meet specific needs. Utilize data in various chart styles and visualizations to gain actionable insights.


Pricing of Freshdesk
Freshdesk provides four distinct options that are charged per support agent per month.
Free - $0 (unlimited free agents).
Growth- $18 per agent per month, invoiced monthly, or $15 per agent per month, billed annually.
Pro- $59 per month per agent invoiced monthly or $49 per month per agent billed annually.
Enterprise - $95/month payable monthly or $79/month billed annually.
Freshdesk Summary
Pros: "FreshDesk makes issue resolution for larger organizations simple"
Cons: "The platform cannot be connected and synced with google workspace email and google calendar."
Intercom
Intercom is a customer messaging platform with features aimed at strengthening client connections. It is a technologically advanced corporation with over 30,000 clients. Intercom enables you to improve client interactions by providing tailored, messenger-based experiences across the customer lifecycle. Intercom is used by the world's most successful organizations, like Shopify, Atlassian, and New Relic, to create conversational customer experiences via bots, chat, and tailored messaging.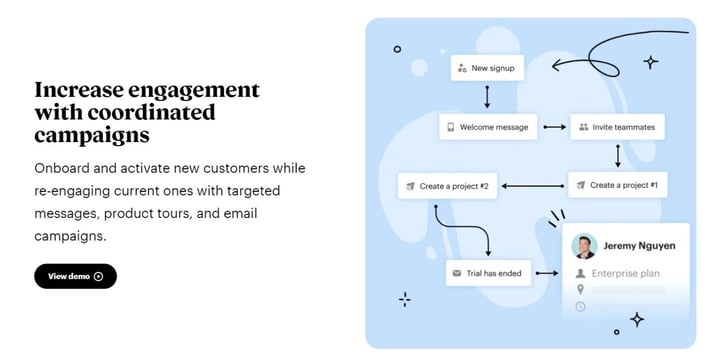 Intercom is a robust client engagement platform that includes several complex capabilities. Intercom is used as a cornerstone of customer interaction initiatives by large software and technology companies. It is undeniably sophisticated, but it is also costly, with features and add-ons that may add up to a large monthly fee. It also lacks a few fundamental live chat capabilities available in most rivals, such as message previews.
Features of Intercom
Instead of using forms, you may use tailored messaging to engage your top prospects right away. The system helps you qualify leads, sending the appropriate leads to the appropriate salesperson while maintaining Salesforce in sync.
Intercom gives users automated email sequences to assist them onboard and convert from user to buyers.
View and get updated on changes in client status, such as active clients, new clients, and clients leaving. Custom segments can be created depending on user data or events. You may obtain a complete picture of each consumer, including their activity, social networks, location, and other information.
Create behavior-triggered campaigns targeting users who take specific actions or are in specific stages, such as active, new, or inactive users.
Pricing of Intercom
You need to contact their sales team in order to get details about pricing plans.
Intercom Summary
Pros: "Intercom helps me respond timely to leads, provide assistance to customers, and automate processes."
Cons: "​​Hard to think of something I dislike about Intercom... really.. but the way pricing is.. "Hey you need this feature, pay extra" is a bit annoying sometimes, rather than having everything included in the type of plan you sign up for and then being able to upgrade the whole plan if you need extra features, it seems each feature comes with its own pricing and for each new "seat" you need to pay additional monthly. It's just overly complicated."
BirdEye
Birdeye assists businesses in growing by ensuring that their clients are satisfied. Birdeye helps over 70,000 companies generate new leads with Reviews, Listings, and Referrals. Then, turn those leads into potential customers with Webchat and satisfy those customers with Ticketing, Surveys, and Insights all in one location.
Businesses are providing exceptional customer experiences to over 100 million customers with the help of the Birdeye platform, which includes messaging, AI, and automation technologies.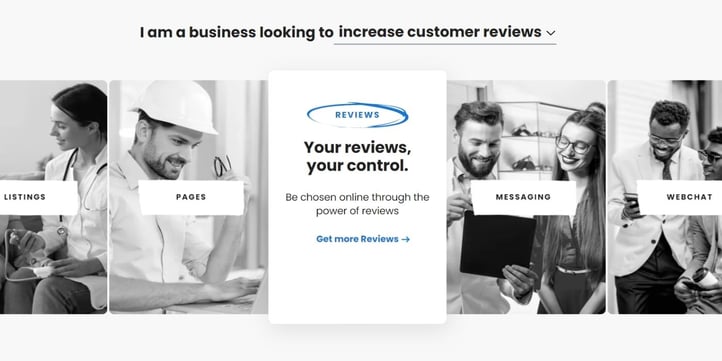 Features of BirdEye
Webchat enables you to message your leads even after they have left your website. Messages are routed to their phone, so you don't miss them.
You can use Google Analytics to learn how visitors to your website interact with your webchat.
Personalize your chat window by changing the chat icons, colors, and greeting.
Inform visitors about who they will be interacting with. For example, add names, photographs, or even a picture of your company's mascot.
Engage your website visitors from the moment they arrive. Livechat makes the interaction real-time.
Pricing of BirdEye
For further pricing information, please contact BirdEye directly.
BirdEye Summary
Pros: ​​"Birdeye Has Monthly Stat Reports That Are Great to View!"
Cons: "The inbox is least helpful. It's super messy and I cannot navigate it very well."
Podium
Podium is changing how people connect with local businesses. Podium stands out among its rivals with options such as video chat, link-free text surveys, desktop, and mobile applications, text-to-pay, and a switchboard for customer evaluations. Internal communications are also frictionless, allowing organizations to share group messages, photos, and links and cooperate on leads. In addition, feedback, progress, results, and engagement are automatically included in any organization's Podium communications initiatives.
Podium's Interaction Management platform employs messaging to make it easy to communicate with your customers, leads, and the team at every stage of the customer journey.
Features of Podium
Google Analytics integrations provide information on how your site's users interact with it and which sections perform best.
Businesses may use the inbox function to allocate conversations to various workers or locations, filter conversations by category, and set permissions.
With a daily summary of new inbound leads, you can track how well Webchat is performing.
Answer frequently asked questions, such as company hours or store locations, automatically.
Compare and contrast each employee's response times and controlled dialogues.
Pricing of Podium
Podium offers three premium plans:
Essentials - $189 USD per month. (best for small businesses)
Podium - $449 USD per month.
Professional - USD 649 per month. (offers advanced features)
Podium Summary
Pros: "I love the customized template option of the podium. With a personable company that contacts hundreds of customers a day, it is easy to customize your own template versus using a script someone else provided. We do this with our day of text for homeowners, this has really helped our customers stay informed!"
Cons: "It seems they are preying on older small business owners who don't understand how the internet works. Almost everything Podium does you can already get for free from Facebook or Google. And if you want CRM-type services, there are myriad cost-effective options that are more robust for your team to use."
Which of the Drift alternatives is the most suitable for you?
So, that brings us to the end of this in-depth comparison. Let's check which Drift alternative is ideal for you:
Suppose you want a Drift alternative with a plethora of advanced customer support features and that too at very affordable pricing. In that case, Botgate AI is the ideal Drift alternative for you. Botgate AI engages consumers, assists visitors, and assists sales teams in generating leads. In addition, Botgate AI is a well-designed and adaptable software with excellent marketing and sales queries options.
Last Words
To be competitive in today's market, businesses must consider implementing a live chat function. Customers are impatient these days when it comes to communication with businesses.
The options outlined above may work well for you if your company is still new or you just want to start experimenting with chatbots. However, regardless of the approach, you select, getting started with conversational marketing is a wise business decision since customers will demand it in the future.
Subscribe to our newsletter
get the latest news.