Chatbot, Chatbot ai
Five Benefits of Using AI bots to Increase Customer Engagement
When people say that a brand's online presence has all but replaced brick and mortar, it often sounds like an overstatement. At first, it seems impossible to emulate or improve upon the in-person experience.
However, web developers and entrepreneurs are committed to giving consumers everything at the press of a button. They're combining the convenience of shopping through one's mobile device or laptop with the quality customer service that was only available in stores.
The most standout example of the above notion is the advent of AI bots. Via artificially intelligent and automated technologies, this valuable tool has drastically bolstered online customer service in all industries. This notion extends to B2B organizations, tech-savvy startups, and any company with a marketing growth department.
Understandably, some people have their doubts. There's an idea that AI bots couldn't possibly replace human agents. Now—those people are 100% correct. This form of AI-powered customer service isn't meant to eliminate human agents.
Instead – as you'll find out by reading this blog – AI bots are meant to help humans increase their performance.
There's no disputing how much this insightful technology boosts customer engagement and satisfaction. The benefits are almost never-ending, but this blog will filter them down to five: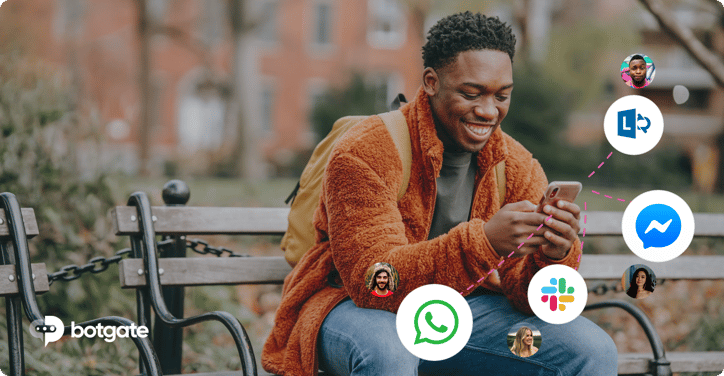 AI bot Benefit #1: You're Always There for Your Customers
It used to be that night-owls and early birds lived in a world where businesses didn't cater to their circadian rhythms. Nor was the world all that flexible for consumers working long hours or those who were just plainly busy.
Even when a brand's online presence started taking the world by storm, websites operated in something of a vacuum. Provided someone wanted questions answered about a product or service, they'd have to make a phone call or send an email. There's a lack of immediacy in both situations when it comes to solutions—and there's a distinct communication hurdle.
Enter AI bots into the equation, and suddenly, the above pain point mostly evaporates.
There's no need to employ a 24/7 customer service team because a AI bot can answer questions at any moment. Whether someone's a night owl, an early bird, or they just like shopping from the comfort of their own home (or office), your business can provide immediate solutions at all times.
AI bot Benefit #2: Acting Quickly with Customers
A whopping 82% of customers calling a support line want an immediate response to their sales questions. Beyond that, 9 out of 10 want quick answers to their customer service questions.
Thus, failing to execute on either of the above fronts means your business is falling short of consumer expectations. Providing optimal service means being mindful that customers are busy and can't sit around waiting to be served.
Bringing AI bots into the equation offsets this issue because it eliminates wait times for the initial conversation and resolutions. Response times are subject to lightning-quick increases in speeds, giving customer service reps a leg up in providing prompt solutions.
With AI bots in place, customers won't have time to grow frustrated. This notion is supported by 74% of consumers who believe it's advantageous and streamlined to interact with a AI bot before a human. Another study shows 4 out of 5 chat sessions resolving themselves without any interactions involving a human agent.
The benefits here are two-pronged:
Namely, the initial AI bot conversation allows for the human agent to sort out an issue in less time. They're often freed up to focus on more pressing matters because the AI chat assistant manages the most straightforward inquiries on its own.
AI bot Benefit #3: Winning the Race With Speedy Solutions
Customers don't want to deal with a whole rigmarole when seeking a quick answer to a simple, clarifying question. Imagine being on a website, merely aiming to learn where to find leggings, and having to wait 10 minutes on the phone, or send an email.
Let's burrow deeper into the above example:
That potential customer who might have made a bulk legging transaction, would just go visit (and likely purchase from) your competitor's website. This hypothetical individual goes from promising lead to fizzled opportunity.
There are two ways AI bots can fix this issue:
Many automated website assistants are pre-programmed with the most commonly asked questions.
When a "simple" question isn't that predictable, the application of artificial intelligence in AI bots is a shining point for many eCommerce websites. Through machine learning, AI-powered AI bots adapt their responses to make them more accurate. This proves immensely useful when customers have more specific questions that require simplified – but precise – answers.
A prominent company in the tourism and travel industry called Amadeus started using one of these AI bots. The results were as follows:
There was a 70% deflection of traditional channels.
The AI bot solved 3,300 cases in a month.
Nearly 80% of the answers the AI bot provided were useful.
One could go on and on about the tremendous power of AI AI bots—but the facts are what tells the story. And there's no arguing with the above statistics. They spell success and increased customer satisfaction.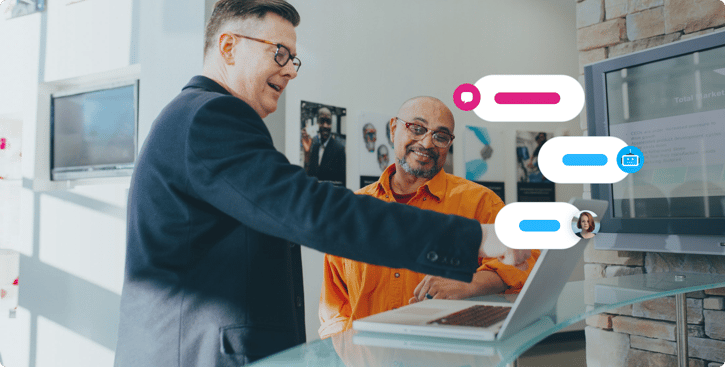 AI bot Benefit #4: Treating Customers Like They Are Individuals.
No matter how hard businesses try, many customers start to feel like another cog in the machine. In fairness, the idea that AI could somehow make for a more personalized, individual experience sounds far fetched on the outset. But upon realizing the vastness of these AI bots' capabilities, the puzzle pieces start to fit.
Primarily, it comes down to an AI bot's ability to parsing through endless streams of data at lightning-quick rates. This characteristic makes it possible to seamlessly gather valuable information about your customers from your CRM—such as their purchase history. From there, your organization can mould someone's online shopping experience to their various preferences and needs.
Compare that to human agents having to scan pages of data with their screen-worn eyes, trying to make sense of it all.
Not only does using an AI bot benefit your customers, but it also pays massive dividends for your agents. Without the benefit of these technologies, human service reps waste up to a quarter of their time trying to retrieve valuable customer info.
In 2021, agents don't need to spend vast chunks of their day on lengthy expeditions for tiny details. With tools like Amazon's chatbot, it's possible to gather customer data about recent orders in the snap of a finger. Moreover, any inquiries or problems with past orders only necessitate the clicking of the adhering item. After that, the AI bot will immediately ask what's needed.
Therefore, Amazon's customers don't need to provide order numbers to a human agent. And while those customer service representatives likely excel in their job, they can't compete with a AI bot's efficiency.
AI bot Benefit #5: A Viable Cross Promotional Tool
With human agents – no matter how well-intentioned they are – it's challenging to avoid seeming pushy when cross-promoting during a call.
Alternatively, AI bots can cross-promote without making things awkward for a customer. They do so by intuitively tapping into the current conversation. Following the natural interactional flow, these assistants make the cross-promotion of content, products, or services, absolutely seamless.
Here's an example:
Imagine a customer wants to ask something about a given product's features or benefits. With the top AI bots on the market, it's possible to direct them to a blog post or webpage with deep-dive breakdowns about the topic.
Furthermore, AI bots can offer information about related products or services. This cross-promotional technique would cater to the customer's specific inquiry and item they've already purchased.
What about a customer that has a question about maintaining a new dress shirt that they just bought from your website? In this case, the AI bot would start by providing helpful guidelines. Then it might recommend a lint roller that your eCommerce site also sells.
With AI-Powered AI bots, One Hand Feeds the Other
Did you know that 65% of millennials, 65% of Gen Xers, and 63% of baby boomers prefer sending a message than calling customer service?
Those numbers indicate that keeping customers engaged and satisfied rests upon your utilization of AI bots.
After all, customers are the only way your business could possibly survive, never mind thrive. As such, the added engagement benefits stemming from AI bots should be enough to sell any organization on the concept.
Yet, it's not only your customers who benefit. It's your agents who'll thrive too. They'll gain information quicker and focus on the most high-priority issues, providing prompter and more successful solutions.
You'll find that happier and more productive employees make for more satisfied and engaged clientele. Thus, making AI bots an absolute necessity for any business with an online presence.
Subscribe to our newsletter
get the latest news.